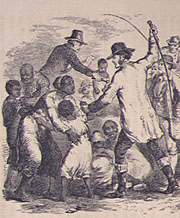 The Slave, by Richard Hildreth, was almost certainly the first anti-slavery novel published in America. Stowe doesn't mention it in her Key, but Charles Nichols argues that it was "the real source" for Uncle Tom's Cabin*.
It's mainly the story, written in the first-person, of Archy, enslaved mulatto son of his owner, Colonel Moore -- and, according to Nichols, the original of Stowe's George Harris. Archy marries another very light-skinned slave named Cassy, who is most like Stowe's Eliza but who is also, like Stowe's Cassy, stalked by the lust of slave-owners. Unable to submit to the injustice of slavery, Archy runs away, eventually becoming an impressed British sailor who gladly fights against the American flag.
The part of the novel included here, however, is the story Archy tells about a fellow-slave named Thomas. At the beginning of the excerpt he will remind you of Stowe's Tom, but when Thomas witnesses his wife's murder at the hands of her master the stories diverge dramatically. Thomas throws off both slavery and Christianity, runs away to the swamp, and kills whites for revenge.
When it first came out anonymously, Hildreth's novel was apparently taken to be a genuine slave narrative. Seven editions of the book were published between 1836 and 1848, but it was not a best-seller. Although it makes strategic use of sentimental images, it is a much more militant fictional protest against slavery than Stowe's novel. The only evidence that suggests Stowe might have read it are the similarities Nichols notes.