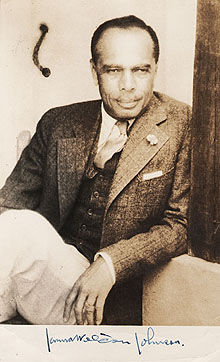 James Weldon Johnson, c. 1920
The Clifton Waller Barrett Collection
Johnson's Ex-Colored Man
In his long career James Weldon Johnson was a songwriter ("Lift Every Voice and Sing" is one of his compositions), a poet, a lawyer, a journalist, an educator, a consul to Latin America and a Field Secretary for the NAACP. He also wrote one novel: The Autobiography of an Ex-Colored Man. He published it anonymously in 1912, believing that it would have more power if readers thought it was a real memoir and that it might sell better if there was a mystery about its authorship. Not much attention was paid to the book, however, until it was republished as a novel in 1927, during the Harlem Renaissance.
The book's narrator is the illegitimate child of an interracial relationship. In the excerpt from Chapter 3 included here, he talks about the way Stowe's novel helped him understand the mysteries of his own racial identity. (Legree is spelled "Lagree" in the original.)
The Autobiography of an Ex-Colored Man. Boston: Sherman, French & Company, 1912.