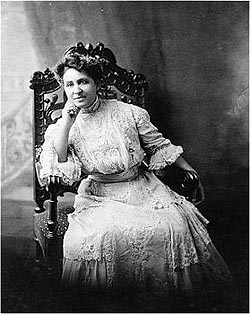 Mary Church Terrell, c1905
Mary Church Terrell (1863-1954) was a pioneer in many respects: as one of the first African American women to graduate from college, as a prominent educator, and as an activist in civil rights causes, including the woman's suffrage movement in the 1910s and the fight against southern segregation in the 1950s. As a reformer and journalist she published throughout the first half of the 20th century. Shortly before writing this "Appreciation" of Stowe, she was a co-founder of the National Association of the Advancement of Colored People.
The 20-page pamphlet you can read here focuses mainly on Stowe herself, and the role she played during her life in efforts to improve the lives of the country's black citizens. It contains only one passing reference (on page 17) to the racial discrimination that still made those lives so difficult at the time Terrell was writing. Its treatment of Uncle Tom, however, expresses no reservations about the novel. Tom himself she calls "a philosopher in mind, a saint at heart, and a martyr in death."
Murray Bros., the firm that brought out Terrell's "Appreciation," seems to have been a black-owned publishing company based in Washington that specialized in pamphlet-sized books about African American experience, in particular various aspects of what was then called "the race problem." They seem to have been most active during the decade before World War I, when Terrell's pamphlet appeared. From the listings on WorldCat, her work seems to have been their only publication with a white central subject until 1946, when The John Brown Reader appeared.
Harriet Beecher Stowe: An Appreciation
Washington, D.C: Murray Bros. Press, 1911