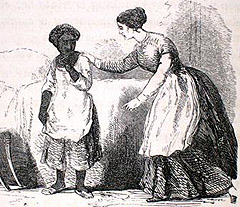 If Stowe's creation of Topsy involved a combination of cultural elements with a governing narrative, then what is fascinating about Topsy in the novel is that her character's development illustrates this very process. Topsy appears mid-way through Stowe's novel when St. Clare buys the slave child in order to put Miss Ophelia's educational and anti-slavery theories to a practical test. He intentionally picks the physically battered and seemingly incorrigible Topsy because he feels Ophelia's methods will not work on a brutalized child of slavery, "one child, who is a specimen of thousands among us."* St. Clare is proven correct as Ophelia's methods prove incapable of training Topsy, whose stealing, lying, and general demeanor disrupt life in the St. Clare household. In fact, Ophelia's own antipathy toward blacks stands in the way of changing Topsy's behavior. Only Eva's genuine love and affection are able to have an effect on Topsy. Once convinced that Eva cares for her, Topsy begins to change her ways, and Eva's death causes her to strive to be good, "a strife irregular, interrupted, suspended oft, but yet renewed again."*

In Stowe's account, what is most intriguing about Topsy is that she is a character without a personal narrative. As Ophelia's initial questioning of her reveals, Topsy knows nothing of her age, her parents, conceptions of time, or God. When asked by Ophelia if she knows who made her, Topsy replies "I spect I grow'd. Don't think nobody never made me."* It is partly this lack of a personal narrative that explains Topsy's function within slavery as a commodity. Without connections to anyone or any place, Topsy herself seems to care little whose possession she is. Topsy's situation provides a telling comparison with that of Uncle Tom. Uncle Tom's tragedy is that he does have a personal narrative, a family, and a past he is forced to leave, and as such he can appreciate personally the ramifications of being a slave. Topsy's initial tragedy is that she has no basis from which to oppose her situation. She cannot envision any alternative to her commodified existence within slavery.*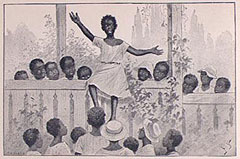 As a character without a personal narrative, Topsy has little to guide and shape her actions. Topsy infuriates Ophelia by stealing small household items, such as gloves, ribbons, and earrings. Yet, the objects mean nothing to Topsy. When Ophelia tells her to admit her thefts or face a whipping, Topsy confesses to all she took and, for good measure, admits to taking Eva's necklace as well, even though it had never been stolen. Similarly, Topsy's random appropriation of behaviors from others can be seen as a substitute for her lack of a personal narrative. "Her talent for every species of drollery, grimace, and mimicry--for dancing, tumbling, climbing, singing, whistling, imitating every sound that hit her fancy--seemed inexhaustible."* Yet this talent, like the objects she takes, fails to influence her actions meaningfully. The problem of Topsy, as presented by Stowe, is that she is a character without character, a site where different discourses converge, but which have no influence in shaping her.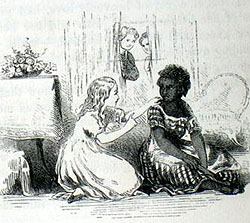 Topsy's subsequent story concerns how Eva's individual affection gives her a narrative and a past. When Eva confronts Topsy about her behavior she learns that Topsy has no one who personally cares for her. Eva then tells Topsy, "I love you, because you haven't had any father, or mother, or friends;-- because you've been a poor, abused child! I love you, and I want you to be good."* Topsy's change (marked by the tears she cries in response) begins at the moment of Eva's individualizing attention. Her conversion is cemented by Eva's deathbed gift of a lock of her blond hair.
Following Eva's death, Topsy is once again accused of stealing. However, when confronted, it turns out she is hiding a book of Eva's given to her as a gift, one of Eva's curls and a strip of black crape leftover from Eva's funeral. When Topsy fears these items are to be taken from her, she pleads with Ophelia to let her keep them. In their relation to Eva, these almost fetishized elements are linked to the change in Topsy's behavior. "Topsy did not become at once a saint; but the life and death of Eva did work a marked change in her."* The objects become the building blocks, for Topsy, of the personalized narrative whose absence so acutely marked her pre-conversion state. The change in Topsy serves to illustrate the difference between an arbitrary collection of cultural elements and a collection informed by a governing narrative. It is, for Stowe, as if Eva's intervention moves Topsy from caricature to character.