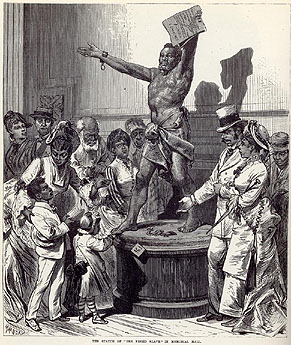 THE CELEBRATION OF AMERICA'S CENTENNIAL IN PHILADELPHIA DIDN'T INCLUDE MUCH HISTORY, BUT THIS BRONZE STATUE BY FRANCESCO PEZZICAR TITLED "THE ABOLITION OF SLAVERY IN THE UNITED STATES, 1863," WAS DISPLAYED IN THE ITALIAN SECTION OF THE ART EXHIBIT. HERE THE ILLUSTRATOR FOR
FRANK LESLIE'S HISTORICAL REGISTER OF THE U.S. CENTENNIAL EXPOSITION
(1877) DEPICTS A GROUP OF AFRICAN AMERICANS VIEWING IT. ON THE OTHER HAND, ACCORDING TO THE CENTENNIAL EXPOSITION GUIDE: WHAT TO SEE--WHERE TO GO (1876), THE SOUTHERN RESTAURANT AT THE EXPOSITION FEATURED "A BAND OF OLD-TIME PLANTATION 'DARKIES,' WHO WILL SING THEIR QUAINT MELODIES AND STRUM THE BANJO BEFORE THE VISITORS FROM EVERY CLIME."