[This was one of the most frequently performed of all minstrel songs, though its author is not known. In the recording, the Canebrake Minstrels follow the stage convention of introducing dialogue into the song; their words here are from an excerpt cited by Hans Nathan and attributed to Dan Emmett and Frank Brower.*]


Miss Lucy Long

Philadelphia: G. Willig, c.1842


I jist come out afore you,
To sing a little song,
I plays it on the banjo,
And dey calls it Lucy Long.

CHORUS:
Oh take your time Miss Lucy,
Take your time Miss Lucy Long.
Oh take your time Miss Lucy
Take your time Miss Lucy Long.

Miss Lucy she is handsome,
And Miss Lucy she is tall,
To see her dance Cachucha
Is death to niggers all.

Oh! Miss Lucy's teeth is grinning
Just like an ear ob corn,
And her eyes dey look so winning!
Oh would I'd ne'er been born.

I axed her for to marry
Myself de toder day,
She said she'd rather tarry
So I let her habe her way.
Pray &c.

If she makes a scolding wife
As sure as she was born
I'll tote her down to Georgia
And trade her off for Corn.

The Lester S. Levy Collection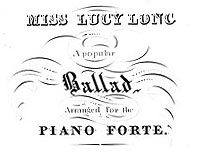 ---

ARTISTS:
THE CANEBRAKE MINSTRELS
FIDDLE: "Justin Case"; BANJO: "Amos Nandy";
FLUTE & LEAD VOCALS: "Juba Lee"; BONES:
"Williub Weaber"; TAMBOURINE: "Moses Linkum."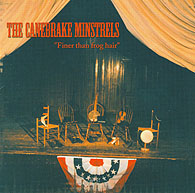 © 2004 THE CANEBRAKE MINSTRELS,
All rights reserved.
---
REFURBISHED BY
Adam Soroka
Digital Media Center, Clemons Library