Invented by Edison in the 1870s, the phonograph was originally marketed to businesses as a dictating machine. At the beginning of the 1890s, however, America discovered its entertainment uses. The first catalogue of the Columbia Phonograph Company (1891) lists, in addition to musical selections by such artists as Sousa and Foster, 20 "speaking records." That's the category the two recordings here belong in. Both feature Len Spencer, one of the first stars of this new media. According to Roland Gelatt, Spencer "specialized in Negro songs interspersed with shouts, humorous asides, and touching sayings according to the temper of the verse."* Here he performs two scenes derived from Uncle Tom's Cabin: on this page, supported by orchestral accompaniment and sound effects for the dogs and the whip, he performs "The Flogging Scene"; on the NEXT PAGE, supported by a female vocalists, a banjo player and steamboat sound effects, the "Entrance of Topsy."
He recorded the first piece twice in March 1904, once for Edison's company, and once for the Victor Talking Machine Company. Both recordings would have been made in a session like the one pictured above, with Spencer speaking right into a horn, switching back and forth between Tom and Legree's voices, with the orchestra gathered behind him. The recording process was acoustic, and all the sound had to be captured simultaneously.
The Edison recording went onto a cylinder, the original form of the record, which in 1904 limited the length to just over two minutes. In 1894 the flat disc became available as an alternative to the cylinder, and in 1903 Victor introduced a 12-inch disc that increased the available length to three and a half minutes; Spencer's "Flogging Scene" was released on a 10-inch disc, and lasts 40 seconds longer than the Edison version. The script is actually the same, but with the additional available time you can hear how Spencer slows down his delivery. (You will have trouble hearing the Edison version at all; the cylinder was damanged with bangs and tracking problems. But if you play the Victor version first, you'll be able to follow the other one more easily.)
Edison and Victor were fierce competitors, so it's not clear why both brought out this selection. Nor is it clear to me what contemporary listeners bought a phonograph recording called "The Flogging Scene" to hear. Both versions end with Legree's command to "Kill him!" (though we couldn't retrieve that phrase in usable form from the cylinder), but the violence of this scene is gestured to more than dramatized.
3D IMAGE (336KB)
3D IMAGE (125KB)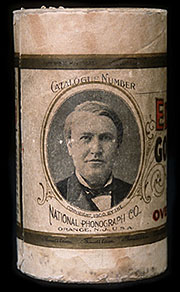 Cylinder Case (c1904)
Edison Gold Moulded Records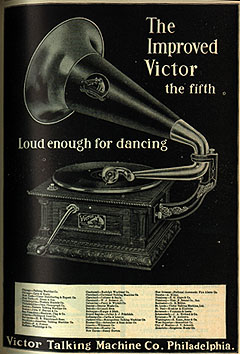 Ad in Cosmopolitan
December 1903