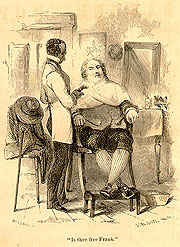 Frank Freeman only has a barber shop for one chapter near the end. It stands for the deception that was practiced on him by the abolitionists who lured him away from his master by promising that with freedom would also come a socially prestigious career. Frank is described as "dark black" but intelligent, eloquent and high-minded; when the chance is given him to go to Liberia, where he'll have his "own" nation, he quickly takes it.

The author of this novel identifies himself as both a "Rev[erend]" and a "D[octor of] D[ivinity]" on the title page, and as a "southerner" several times in the narrative (though in the Preface he locates himself in Brooklyn). The main white character is a northern minister -- Rev. Edward Leamington, "by birth and education a New-Englander" -- who marries the daughter of a plantation owner on one of the islands off "our southern coast" and becomes pastor of the local parish and the owner of the family slaves. He and his children are heart-broken when Frank and his wife run away, but in his will he frees Frank and gives him $5000.
The villains of this tale are the anti-slavery "philanthropists," who incite contented slaves to rebel or run away. The ultimate heroes are the members of the Colonization Society. Hall even addresses potential black readers and encourages them to follow Frank to Africa (see page 341), although throughout the text the narrator makes extremely offensive and stereotypial "jokes" about blacks.

CHAPTER 7, "The Death of Dinah," is very similar to CHAPTER 7 in Uncle Robin in His Cabin in Virginia (1853). That chapter is titled "Death in a Cabin," and the slave who dies is also named Dinah. Both Dinahs were born in Africa as "heathens," but die redeemed Christians who are grateful to slavery for saving their souls. There are similar scenes in other "Anti-Tom" novels, and of course Tom himself dies with joy. He doesn't say Legree and slavery have saved him, but he does say that Legree "an't done me no real harm,--only opened the gate of the kingdom for me; that's all."



Digital text prepared with the help of the
Wright American Fiction Project, Indiana University Library.