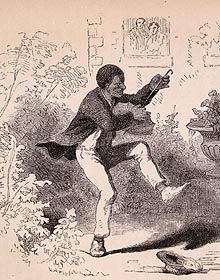 Contemporary readers would have recognized the recipient of these letters. "Major Jones of Pineville, Georgia," was the fictional creation of William Tappan Thompson, a comic naïf whose mis-spelled letters about life in "the Old South-West" during the 1840s appeared first in newspapers, and then were reprinted in popular volumes like Major Jones' Courtship (1843). It's not clear, however, who Ebenezer Starnes was. There was a Georgia Attorney General of that name from 1834-1840 who could have known Thompson, and decided to create a cousin for Major Jones as a way to give his letters from England more visiblity.

It is easier to identify Starnes' agenda. The first six letters in his book are dated July - November, 1851, and describe Dr. Pleasant Jones' trip to England, to see the Great Exhibition in the Crystal Palace. Letter 7 is dated 1 June 1853. In the interim Stowe's novel has been published, and become an even bigger best-seller in England than in the U.S. Its reception in Britain, and especially the abolitionist message "from the Christian ladies of England to their Sisters in America," provoke Dr. Jones to write 38 more letters in a new spirit.

Now he has nothing pleasant to say about England. His admiration for the Crystal Palace yields to an angry determination to prove that people who live in glass houses shouldn't throw stones -- i.e. that given the amount of "social profligacy" (p. 21) in their society, the English have no business attacking the Slave States. At tedious length, he quotes British media to show how there is "more of suffering, destitution, crime, brutality . . . cruelty and oppression," and so on, in England than in the American South. "Uncle Tom" is only mentioned at intervals, but what he sees as England's hypocritical sympathy with this fictional figure serves regularly to punctuate his indictment of social realities.

The last letter is dated mid-1854. It's also not clear why they were not published until 1860. But one thing the volume does allow us to see is how much Stowe's novel may have affected the relationship between the Slave South and Great Britain. Not long after this book was published, the Confederate States of America would be looking for recognition from England; without Uncle Tom's Cabin the gap between the two societies might have been much less wide.