PREFACE TO THE ORIGINAL WORK.
THIS Memoir was commenced as a biographical article for the Missionary Herald. In its progress, however, the materials were found to be so abundant as to suggest the inquiry, whether a distinct publication were not expedient.
Such a publication being advised by the Prudential Committee of the American Board of Foreign Missions, it is respectfully offered to those who feel interested in the success of missionary efforts.
The author is not conscious of having exaggerated a single fact, nor of having made a single statement not drawn from authentic documents. His object has been to give a plain and


---
iv


true exhibition of the life and character of a very interesting convert from heathenism.

The hope is cherished, that this little volume will augment the courage, animate the zeal, and invigorate the efforts of the friends of missions, in their benevolent attempts to send the gospel of Jesus Christ to all nations.

Missionary Rooms,

Boston, Mass. Dec. 1824.




CHAPTER I.

HER HISTORY UNTIL SHE ENTERED THE MISSION SCHOOL AT BRAINERD.

Her nativity.—Notice of her parents.—Condition of her people.—Her triumph over temptation.—A missionary station commenced at Chickamaugah, and named Brainerd.—She becomes a member of the school.

CATHARINE BROWN was born about the year 1800. The place of her nativity was a beautiful plain, covered with tall forest trees in a part of the country belonging to the Cherokee Indians, now called Wills-valley, and lying within the chartered limits of the State of Alabama. It is between the Raccoon and Lookout mountains, twenty-five miles south east of the Tennessee river. David Brown, the brother of Catharine, says, that the name, by which the place is known among his


---
10


countrymen, is Tsu-sau-ya-sah, or, the ruins of a great city: but, if such ruins ever existed, all traces of them have long since disappeared.

The Indian name of Catharine's father, is Yau-nu-gung-yah-ski, which signifies the drowned by a bear. He is known among the whites by the name of John Brown. The Cherokee name of her mother is Tsa-luh: the whites call her Sarah.

Neither of Catharine's parents understand the English language. They are now about sixty years of age. Since the decease of the daughter, whose history and character are to form the subject of this memoir, they have removed beyond the Mississippi river, to the Arkansas Territory, whither a part of the Cherokee nation of Indians have emigrated, within the last fifteen or twenty years.*
---
11
Mr. Brown is represented as possessing a mind more than commonly discerning; yet


---
12


as having, when the missionaries first saw him, but few ideas on the subject of religion. He believed in a Supreme Being, the creator of the visible world, and that there is a state of rewards and punishments after the present life; and appeared conscious, that there were things implied in this short creed, of which he had no distinct apprehension; such as the character of the Supreme Being, the nature of the rewards and punishments, and the manner in which the one is to be obtained, and the other avoided. He seemed to have no notion of forgiveness of sin upon any terms. When told of these things, he said he had never heard of them before.

Concerning the mother, less is known to the writer of this memoir. Her religious knowledge did not probably exceed that of her husband. She was more attentive to neatness and order in the arrangement of her family, and more conversant with domestic duties, than her countrywomen generally.

But ignorant as were the parents of Catharine on the more important subjects, they belonged to the more intelligent class of their people: for until within a few years, the


---
13


Cherokees had scarcely begun to feel an impulse towards civilization; and indeed, as a nation, were almost entirely destitute of the means of intellectual or moral culture. In a very few instances, a youth was sent to school in the white settlements bordering on the Indian territory; and still more rarely, perhaps, an outcast from civilized society would undertake, for a short time, and from interested, and perhaps sinister motives, to instruct among them. In 1801, a Moravian mission was established at what is now called Spring-place, and one or two excellent men have, since that period, resided there: but, their means having been limited, their influence could not be extensive. Very commendable exertions in support of a school among the Cherokees, were also made, for a few years subsequent to 1803, by the Rev. Gideon Blackburn.

Excepting these efforts, there was, until the year 1816, nothing done for the Cherokees by the Christian church, nothing by the civilized world. They inhabited a country, which is described as being susceptible of the highest cultivation: but most imperfect was their agriculture. They possessed a language, that is said to have more precision and strength than some into which learning has poured richness of thought, and genius breathed the enchantments of fancy and eloquence: but they had no literature. Not a book existed in the lan-


---
14


guage: the language was unwritten: the fountains of knowledge were sealed: the mind made no progress.

After these statements, the reader will be prepared to credit what will be said, in the progress of this memoir, respecting Catharine's intellectual condition, when she first came under the care of the missionaries.

It is pleasing to observe here, that her moral character was ever good. This is remarkable, considering the looseness of manners then prevalent among the females of her nation, and the temptations to which she was exposed, when, during the war with the Creek Indians, the army of the United States was stationed near her father's residence. Were it proper to narrate some well authenticated facts with reference to this period of her life, the reader would admire the protecting care of Providence. Once she even fled from her home into the wild forest, to preserve her character unsullied.*

These occurrences took place before the establishment of a school at Brainerd, while Catharine was young, ignorant of the world, without any clear views of morality, and destitute of the knowledge and love of God. Strange that her resolution should then have


---
15


been so influenced by a sense of character. But her heavenly Father interposed in her behalf, and a hand, which she did not then know, was extended for her preservation.

Early in the autumn of 1816, a missionary, sent by the American Board of Commissioners for Foreign Missions, made his appearance in a general Council of the Cherokees, and offered to establish schools among them. His offer was favourably received. After consultation, a principal chief took him by the hand, and said: "You have appeared in our full council. We have listened to what you have said, and understand it. We are glad to see you. We wish to have the schools established, and hope they will be of great advantage to the nation." This missionary was the Rev. Cyrus Kingsbury, who, after commencing the first establishment of the Board among the Cherokees, took up his residence with the Choctaws, was the chief agent in forming the stations of Elliot and Mayhew, and is now the superintendent of the Choctaw mission.

The place selected for the first school, was called Chick-a-mau-gah; but it subsequently received the name of Brainerd, in memory of David Brainerd, that devoted friend and benefactor of the American Indians, who stands pre-eminent among modern missionaries. Early in the following spring, Mr. Moody Hall and Mr. Loring S. Williams, with their


---
16


wives, arrived as assistant missionaries, and, soon after their arrival, a school was opened under favourable prospects.

Information of these proceedings soon spread through the nation, and coming to the ears of Catharine, then living at the distance of a hundred miles, excited in her a desire to attend the school. She besought her parents to send her, and they granted her request. Accordingly, on the 9th of July, 1817, when about seventeen years of age, she entered the missionary school at Brainerd.




CHAPTER II.

FROM HER ENTERING THE SCHOOL AT BRAINERD, UNTIL HER REMOVAL BY HER PARENTS.

Her appearance when she entered the school.—Her diligence and progress.—Her religious knowledge.—Character of her teachers.—Her conversion and solicitude for her people.—Instance of earnest prayer.—Prospect of her removal.—Her baptism.—Temporary absence.—Admission to the church.—The early success at Brainerd uncommon.—The chief obstacles to success among the Indians.—Visit of the Treasurer of the American Board.—His account of the school, and description of Catharine.—She is removed from Brainerd.—Is visited by one of the missionaries.—Letter.

THE features of Catharine were comely; her person was of the middle stature and erect; her manners were naturally easy; her demeanor was modest and prepossessing; and she was, even when she entered the school, an interesting girl.

"It was, however, manifest," says Mr. Kingsbury, "that, with all her gentleness and apparent modesty, she had a high opinion of herself, and was fond of displaying the clothing and ornaments in which she was arrayed. At our first interview, I was impressed with


---
18


the idea, that her feelings would not easily yield to the discipline of our schools, especially to that part of it, which requires manual labour of the scholars. This objection I freely stated to her, and requested that, if she felt any difficulty on the subject, she would seek admission to some other school. She replied, that she had no objection to our regulations. I advised her to take the subject into consideration, and to obtain what information she could, relative to the treatment of the scholars, and if she then felt a desire to become a member of the school, we would receive her.

"She joined the school, and the event has shown, that it was of the Lord, to the end that his name might be glorified. I have often reflected, with adoring gratitude and thankfulness, on the good providence, which conducted that interesting young female to Brainerd, and which guided her inquiring and anxious mind to the Saviour of sinners."

Some time before this, it is not known precisely how long, while residing at the house of a Cherokee friend, she had learned to converse in the English language on common subjects, and to read words of one syllable. These acquisitions, which were of no particular service at the time they were made, are to be noticed as the probable means of leading her to Brainerd. They excited desires which she could gratify no where else.

Her teachers declare that, from her first admission


---
19


to the school, she was attentive to her learning, industrious in her habits, and remarkably correct in her deportment. From reading words of one syllable, she was able, in sixty days, to read the Bible intelligibly, and, in ninety days, could read as well as most persons of common education. After writing over four sheets of paper, she could use the pen with accuracy and neatness, even without a copy.

From the testimony of different persons it appears, that her knowledge on religious subjects was exceedingly vague and defective when she entered the school. Her ideas of God extended little farther than the contemplation of him as a great Being, existing somewhere in the sky; and her conceptions of a future state were quite undefined. Of the Saviour of the world, she had no knowledge. She supposed, that the Cherokees were a different race from the whites, and therefore had no concern in the white people's religion; and it was some time before she could be convinced, that Jesus Christ died for the Cherokees. Subsequently to her conversion she remarked, that when first conversed with in regard to religion, she thought Christians had no enjoyment in this world, and that if she became religious, she too should be rendered unhappy. How much her opinions and sentiments on this subject were in a short time changed, will appear as we proceed.


---
20


That the reader may be duly sensible of the Christian devotedness of the men, under whose instruction this interesting female had placed herself, he is informed, that, not long after her introduction to them, they adopted the following resolution, which develops an economical principle carried through all the missions to the Indians, under the direction of the American Board of Commissioners for Foreign Missions:—

"That, as God in his providence has called us to labour in the great and good work of building up his kingdom among the Aborigines of this country, a work peculiarly arduous, and which will be attended with much expense; and above all, considering that we have solemnly devoted ourselves, and all that we have, to the prosecution of this work; we declare it to be our cordial, deliberate, and fixed resolution, that, so far as it respects our future labours, or any compensation for them, we will have no private interests distinct from the great interest of this institution: and, that if it meets the views of the Prudential Committee, we will receive no other compensation for our services, than a comfortable supply of food and clothing for ourselves and families, and such necessary expenses as our peculiar circumstances may require; observing at all times that frugality and economy, which our duty to the Christian public and the great Head of the church demands."
---
21
Catharine had been in the school but a few months, before divine truth began to exert an influence upon her mind. This was manifested by a tenderness of spirit, and an increased desire to become acquainted with the Christian religion. The same effects were also observed, at the same time, in two or three other Cherokees.
She did not seem to be greatly influenced by a fear of the punishment threatened against sin. Her chief object of solicitude seemed rather to be, that she might know and do the will of God. She spent much time in reading the Scriptures, singing, and prayer, and was often observed to be in tears.
In December, 1817, she indulged a hope of pardon and acceptance through the Lord Jesus. And it is no small proof of the excellent practical tendency of her religion, that of her own accord, she very soon began to pray with her associates, and to assist in teaching the Lord's prayer and the catechism to the younger girls in the school.
The Rev. William Chamberlain, now residing at a missionary station called Willstown, not far from the place of her nativity, states that her desires for the salvation of her people were now strong and ardent; and that she wept and prayed for them in the company of her female friends, at their weekly prayer meetings,—as we may suppose she did, also, in the places of her secret retirement.
---
22
The case of her brother David, then on the Arkansas river, was specially interesting to her. One morning, having withdrawn to the neighbouring wood for devotion, she became so deeply engaged in prayer for this dear brother, that the time passed insensibly, and she remained in her secret retreat till the sun was near setting. As she had been favoured with unusual nearness of access to her heavenly Father, she returned home with an humble confidence that he would fully answer her prayers. After David had gone to New England to complete his education, having previously given satisfactory evidence of piety, she related these facts to a confidential friend, and said she wished to remember them with gratitude.
At the commencement of the year 1818, an event occurred, which showed how much Catharine was attached to the society and the privileges she enjoyed at Brainerd. Her father, designing to remove with his family beyond the Mississippi river, came to take her from the school. The prospect of a separation was equally painful to Catharine and to the missionaries. They regarded her as the first fruit of their missionary labours, and loved her, as well on that account, as on account of her pious and amiable conduct. On her part, there was not less affection; and besides, she felt herself too little established in her Christian habits to go into the howling wilderness alone.
---
23
"Perhaps," said her teachers and spiritual guides, "the Lord is taking her from us, that she may be more useful in promoting his cause in some other place." We shall see, ere long, that they ultimately found occasion to rejoice, not only on account of the brief separation which now took place, but also of the more painful separation which happened in the latter part of the same year.
Catharine desired to receive, before her departure, in the ordinance of baptism, the seal of the covenant of grace. As no reasonable doubt could be entertained of her piety, this request was cheerfully granted. On the 25th of January, Mr. Kingsbury preached from Gal. iii. 28, on the fellowship of those who are in Christ, of whatever colour, or nation, and then, in the presence of a large assembly, administered the ordinance to the deeply affected convert.
She was the first Indian baptized by the missionaries of the board. This event occurred about eight months after the opening of the school at Brainerd. Since then, about one hundred adult Cherokees have received the same ordinance, preparatory to admission to the visible church.
The month of February was spent by Catharine at her father's house: but circumstances preventing the immediate removal of her parents, she was permitted to revisit Brainerd


---
24


for the purpose of spending a few months more on that hallowed ground.

She had been closely questioned, while at home, by some irreligious white people, with respect to her religious faith. They endeavoured to perplex her mind, by objections against the Scriptures. Her parents, however, were pleased that she had learned so many good things, and expressed a desire to be themselves instructed.

Her return furnished an opportunity to admit her to full communion in the visible church of Christ; which was done on the 29th of March, about two months after her baptism. Six other Cherokees joined with her at that time in celebrating the Lord's Supper. "Our red brethren and sisters," say the missionaries, "declared that their joys, while at the table, exceeded every thing they had before conceived."

It has not been common for missionary stations among Pagans to be favoured so early, as Brainerd was, with the converting influences of the Spirit of God. Generally, in these latter days, the faith and patience of a missionary, under such circumstances, have been considerably tried, before he has seen the fruits of his labours; though, in due season, there has seldom failed to be a harvest amply compensating him for all his toils. But among those Indians of North America, who have not incorporated the worst vices of civilized


---
25


life with their own, the preacher of the gospel has some peculiar advantages. They possess not, as do most heathen nations, a complicated system of false religion, transmitted from their fathers, which must be overthrown before the gospel can prevail. They are, to a great extent, "without a sacrifice, and without an image, and without an ephod, and without a teraphim." There is scarcely any thing among the Indians themselves to oppose the prevalence of the gospel, except their unfortified ignorance and depravity. The greatest obstacles to missionary success among them, arise from a foreign influence, industriously and powerfully exerted.

In May, Jeremiah Evarts, Esq. * at that time Treasurer of the Board of Missions, ar-


---
26


rived at Brainerd, on a visit of inspection and superintendence. By extracting two or three passages from a letter, which he then wrote to Dr. Worcester, corresponding secretary of the board, the reader will have a view of the internal economy of the missionary establishment, with which Catharine was connected.


"It was on Friday evening, the 8th inst., just after sun-set," says Mr. Evarts, "that I alighted at the mission house. The path, which leads to it from the main road, passes through an open wood, which is extremely beautiful at this season of the year. The mild radiance of the setting sun, the unbroken solitude of the wilderness, the pleasantness of the forest with all its springing and blossoming vegetation, the object of my journey, and the nature and design of the institution which I was about to visit, conspired to render the scene solemn and interesting, and to fill the mind with tender emotions.

"Early in the evening, the children of the school, being informed that one of their northern friends, whom they had been expecting, had arrived, eagerly assembled in the hall, and were drawn up in ranks and particularly introduced. They are neither shy, nor forward in their manners. To a stranger they appear not less interesting than other children of the
---
27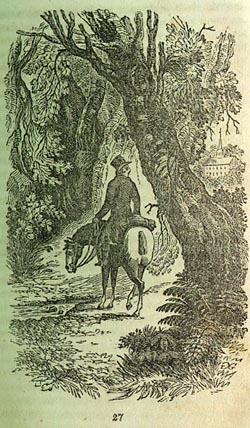 ---
29
same age; but, if he considers their circumstances and prospects, incomparably more so.
"At evening prayers, I was forcibly struck with the stillness, order, and decorum of the children, and with the solemnity of the family worship. A portion of Scripture was read, with Scott's practical observations; a hymn was sung, in which a large portion of the children united; and Mr. Hoyt led the devotions of the numerous family. If all the members of the board could hear the prayers, which are daily offered in their behalf at this station, (and I presume at all others under their superintendence;) and if all patrons and contributors could hear the thanks, which are returned to God for their liberality; and especially if they could see a large circle of children, lately rescued from heathenism, kneeling with apparent seriousness, and engaging in the solemnities of Christian worship, one of them [Catharine] already a hopeful convert, and others thoughtful and inquiring;—if all these things could be seen, one may safely predict, that the exertions and sacrifices of the friends of missions would be increased four-fold. These things are not the less real, however, because they cannot be seen by every friend to the cause."
The Rev. Ard Hoyt, mentioned in the above extracts, joined the mission in the January preceding, and in June succeeded Mr. Kingsbury as superintendent of the


---
30


Cherokee mission, the latter having removed to the Choctaw nation.

A farther extract from the letter of Mr. Evarts will not only confirm much that has already been said respecting Catharine, but will add some other particulars.

"Her parents are half-breeds, who have never learnt to speak English; yet if you were to see her at a boarding school in New-England, as she ordinarily appears here, you would not distinguish her from well-educated females of the same age, either by her complexion, features, dress, pronunciation, or manners. If your attention were directed to her particularly, you would notice a more than ordinary modesty and reserve. If you were to see her in a religious meeting of pious females, you would not distinguish her, unless by her more than common simplicity and humility. When she joined the school in July last, (having come more than one hundred miles for that sole purpose,) she could read in syllables of three letters, and was seventeen years old. From her superior manners and comely person she had probably attracted more attention than any other female in the nation. She was vain, and excessively fond of dress, wearing a profusion of ornaments in her ears. She can now read well in the Bible, is fond of reading other books, and has been particularly pleased with the Memoirs of Mrs. Newell. Last fall she became


---
31


serious, is believed to have experienced religion in the course of the autumn, and was baptized in January. Since that time, she has been constantly in the family, and all the female members of it have the most intimate knowledge of her conduct, and receive a frank disclosure of her feelings. It is their unanimous opinion, that she gives uncommon evidence of piety. At meetings for social prayer and religious improvement, held by them on every Thursday afternoon and Sabbath evening, Catharine prays in her turn, much to the gratification of her sisters in Christ. Her prayers are distinguished by great simplicity as to thought and language, and seem to be the filial aspirations of the devout child. Before Mrs. Chamberlain took charge of the girls, Catharine had, of her own accord, commenced evening prayer with them, just as they were retiring to rest. Some time after this practice had been begun, it was discovered by one of the missionaries, who, happening to pass by the cabin where the girls lodge, overheard her pouring forth her desires in very affecting and appropriate language. On being inquired of respecting it, she simply observed, that she had prayed with the girls because she thought it was her duty. Yet this young woman, whose conduct might now reprove many professing Christians, who have been instructed in religion from their infancy, only ten months ago had never


---
32


heard of Jesus Christ, nor had a single thought whether the soul survived the body or not. Since she became religious, her trinkets have gradually disappeared, till only a single drop remains in each ear. On hearing that pious females have, in many instances, devoted their ornaments to the missionary cause, she has determined to devote hers also. In coming to this determination, she acted without influence from the advice of others."*

The time fled rapidly away, in pious employments and in Christian intercourse, and brought the expected, dreaded separation. It shall be described in the words of those, who, next to the interesting sufferer, felt it most.

"Nov. 4, 1818. The parents of Catharine Brown called on us. They are on their way to the agency. The old gray-headed man with tears in his eyes said he must go over the Mississippi. The white people would not suffer him to live here. They had stolen his cattle, horses, and hogs, until he had very little left. He expected to return from the agency in about ten days, and should then wish Catharine to go home, and perpare to go with him to the Arkansas. We requested him to leave his daughter with us yet a little while, and go to the Arkansas without her; and we would soon send her to him with much more knowledge than she now has. To this he would not consent, but signified a


---
33


desire that some of us would go along with him."

While her parents were gone to the agency, Catharine made a farewell visit to Spring-place, the seat of the Moravian mission, about thirty-five miles from Brainerd. The feelings with which she parted from Mr. and Mrs. Gambold, the venerable missionaries there, were such as might be expected from her high regard for their characters, and her prospect of never seeing them again. She returned to Brainerd on the 9th; and, on the 20th, the missionaries thus describe her removal.

"Her father and mother, returning from the agency to go to the Arkansas, stopped yesterday for the purpose of taking her with them. She knew that she needed more instruction to be prepared to go alone into the wilderness, and entreated them to leave her with us a little longer. She is their only daughter,* and they would not consent on any terms. The struggle was very severe. She wept and prayed, and promised to come to them, as soon as she had finished her literary education, and acquired some further knowledge of the Christian religion. We engaged that she should be provided for while here, and assisted in going to them. Her mother said, she could not live if Catharine would not now go with them. Catharine replied,


---
34


that to her it would be more bitter than death to leave us, and go where there were no missionaries. Her father became impatient, and told her if she would not mind him, and go with them now, he would disown her for ever; but if she would now go, as soon as missionaries came to the Arkansas, (and he expected they would be there soon,) she might go and live with them as long as she pleased: he wished her to have more learning.

"Never before had this precious convert so severe a trial; and never, perhaps, did her graces shine so bright. She sought for nothing but to know her duty, and asked for a few minutes to be by herself undisturbed. She returned, and said she would go. After she had collected and put up her clothing, the family were assembled, a parting hymn was sung, and a prayer offered. With mingled emotions of joy and grief, we commended her to the grace of God, and they departed.

"Precious babe in Christ! a few months ago brought out of the dark wilderness; here illuminated by the Word and Spirit of God; and now to be sent back into the dark and chilling shades of the forest, without one fellow traveller, with whom she can say, 'Our Father!' O ye, who with delight sit under the droppings of the sanctuary, and enjoy the communion of saints, remember Catharine in your prayers."

Thus was she removed from a place, endeared


---
35


to her by some of the most pleasing associations of her life, and she departed expecting to return no more. It was a day of sorrow to the members of the school, whose warm attachment she had effectually secured. But the whole had been ordered by Infinite Wisdom.

Early in the following month, information was received at Brainerd that two children, who had been taken captive by the Cherokees, from the Osage tribe of Indians, were in the lower part of the nation, and that one of them was supposed to be the sister of Lydia Carter, the interesting "Little Osage Captive,"* who was then a member of the school. There being some reason to believe that the man, in whose possession they were, might be induced to surrender them to the care of the missionaries, Mr. Hoyt, accompanied by his son, set out in quest of the unfortunate children. They travelled between two and three hundred miles, and encountered many hardships on their way. But though they found the children, and ascertained that one was indeed the sister of Lydia, they failed in their great object. The man who professed to be the owner of the children, would not relinquish them.*
---
36
The journey was not, however, in vain. Mr. Hoyt had the happiness of meeting with Catharine at her father's house. This occurrence is thus noticed, in the journal of the mission.
"In this tour, father Hoyt spent two nights and a day at the house of Catharine Brown's father. He was received with great cordiality by the whole family; and Catharine's joy was so great, that he says, 'I felt myself more than paid for the fatigues of the whole journey, by the occurrences of the first evening.' Catharine said, it had been very dark times with her, since she left Brainerd. All around her were engaged for the riches and pleasures of the world; and because she could not unite with them as formerly, they were telling her, they supposed she thought herself very good now; that she expected to go to heaven alone, &c. Her greatest burden was a fear that she should be drawn away from the right path, and at length be left to do like those around her."
While Mr. Hoyt was at her father's, he preached to a small audience of Cherokees, and one Indian woman was so much affected, that she wept during the whole service. After the departure of Mr. Hoyt, this woman sent


---
37


for Catharine to read and explain the Bible to her, and to pray with her, which was repeatedly done. There is reason to believe, that a salutary and abiding impression was produced; for after Catharine's return to Brainerd, this poor female came all the way, a distance of more than a hundred miles, to hear, as she said, more about the Saviour.

This chapter will be closed with a letter from Catharine to two of her friends at Brainerd, which are among the earliest of which her biographer has any knowledge. And this occasion is taken to remark, that the letters which will find a place in this memoir, were written with little study or effort, from the overflowings of her heart, to persons with whom she was intimately acquainted. The greater part of them have never before been published. They are generally copied from originals, which are in a plain, intelligible, running hand, and the orthography is seldom incorrect. Alterations in the sense, are never made; corrections in the grammar, but rarely.

TO MR. AND MRS. CHAMBERLAIN, AT BRAINERD.

Fort Deposit, Dec. 12, 1818.

My dearly beloved Brother and Sister,—

I just sit down to address you with my pen. But is this all? Am I so soon called to bid you adieu, and see your faces no more in this world? O my beloved friends, you know not the love I bear to that blessed spot,


---
38


where I have spent so many happy hours with you; but it is past, never to return.

Dear friends, I weep; my heart is full; tears flow from my eyes while I write: and why is it so? Do I murmur? God forbid. Ought I not to praise the Lord for what I have received, and trust him for every thing? O yes, his ways are best, and he has graciously promised, that "all things shall work together for good to them that love him." But do I love him? Have I that love to him, which will enable me to keep all his commandments? Do I love him with all my heart? O that the Lord would search me, and lead me in the way of eternal life.

I am here amongst a wicked set of people, and never hear prayers, nor any godly conversation. O my dear friends, pray for me: I hope you do. There is not a day passes but I think of you and the kindness I received during the time I staid with you. It is not my wish to go to the Arkansas; but God only knows what is best for me. I shall not attempt to tell you what I have shed when I called to mind the happy moments we passed in singing the praises of God. However, I bear it as well as I possibly can, trusting in our dear Saviour, who will never leave nor forsake them that put their trust in him.

It is possible that I may see you once more; it would be a great happiness to me if I don't


---
39


go to the Arkansas; perhaps I may; but if I should go, it is not likely we shall meet in this world again:—but you will excuse me, for my heart feels what I cannot express with my pen. When I see the poor thoughtless Cherokees going on in sin, I cannot help blessing God, that he has led me in the right path to serve him.

O may we meet at last in the kingdom of our blessed Saviour, never more to part. Farewell, my dear brother and sister, farewell.

From your affectionate sister in Christ,

CATHARINE BROWN.