Godey's Lady's Book
Mrs. S[arah]. J. Hale
Philadelphia: June 1843
THE ANGEL'S VISITS.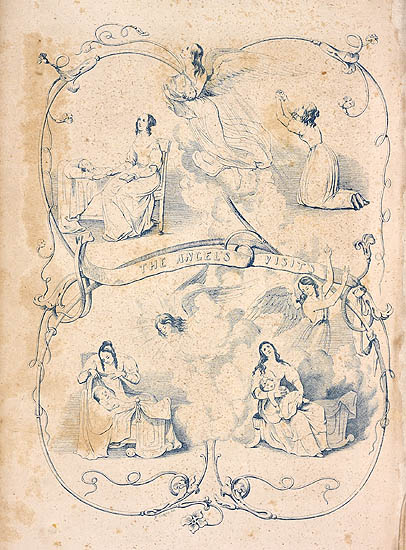 THE earth was at rest, and the evening air
Seem'd like breath of the infant sleeping;
And the stars stole forth like fancies fair,
That come in the light of the mother's prayer,
When Love is her vigils keeping.

But the mother felt, in her trembling breast,
That the Angel's presence was o'er her;
And she shook with a nameless fear distress'd,
As she bow'd, like a reed by dews oppress'd,
To guard the dear babe before her.

The clouds gather'd dark, as a funeral pall,—
The midnight's winds were sighing,
And the mother's tears like the rain-drops fall;
She hath heard the soft tone of the Angel's call,
And she knows that her babe is dying.

The sun is bright in the morning sky,
As when its first smile was given;
And the Angel soars to his home on high,
While faith reveals, to the mother's eye,
That he bears her sweet child to heaven!