---
[2]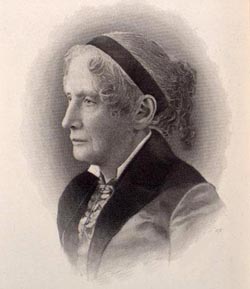 ---
[3]
HARRIET BEECHER STOWE
In the college church of Brunswick, Maine, in 1850 sat a little woman. As the Lord's Supper was administered, she was blinded by tears and convulsed with sobs. In her mind's eye she saw the bruised and bleeding body of a man whose life was ebbing away. Throughout the long night he had been repeatedly lashed into unconsciousness, then revived with water, only to be beaten senseless again, until at last his strength had failed him, and he lay dying, the victim of inhuman cruelty and legalized crime.
As this awful scene presented itself to the delicate woman, her horror of it was increased, when she thought that while she ate the body and drank the blood of the Saviour of men, thousands of helpless human beings were even then being lashed and tortured and murdered under the very eyes of the church, with the sanction of law, in a country called the "Land of the Free and the Home of the Brave."
Almost overcome with the burden which this scene laid on her heart, she rushed from the house of God to her home. Seizing her pen she painted the vision which had swept her soul with such a tempest of emotion, then gathering her family about her, she read what she had just written. So deeply affected were her two little sons of ten and twelve years that one cried aloud in convulsions of weeping, "Oh, Mama, slavery is the most cruel thing in the world."
This sketch which so moved the children was the foundation of Uncle Tom's Cabin, and she who wrote it was Harriet Beecher Stowe.
How little did Roxanna Beecher think on that fourteenth day of June, 1811, when baby Harriet was put into her arms for the first time that this small daughter of hers would one day grow up to be a great woman, who would make a deep impress upon her times, exert a powerful influence for good and write a book which would electrify the whole civilized world. And yet, when we become acquainted with the parents of Harriet Beecher, study her surroundings from youth to


---
4


maturity, the intellectual qualifications and the spiritual gifts which she possessed to such a remarkable degree follow as a matter of course.

Harriet's mother, Roxanna, was noted for her accomplishments and revered for her piety. Harriet's father, Dr. Lyman Beecher, was one of the profoundest scholars and most noted divines of his day. Harriet Beecher was descended from a strong and sturdy stock. The first members of the Beecher family who came to this country were John and his mother, who arrived eighteen years after the landing of the Mayflower. From that day forth the Beecher family has played an important part in the mental and spiritual development of the United States. They have been strong, both in body and in mind. They have been omnivorous readers, deep thinkers and have been noted for possessing that special brand of patriotism which prompts men and women to work vigorously for the betterment of mankind every day in the year. Moreover, Harriet's grandfather as well as her father proved that they were men of sound judgment and high aspirations by the kind of women they married. They built the foundation of the Beecher family upon a solid rock by choosing as wives women of superior ability and strong character.

Harriet Beecher was hardly four years old, when her mother died, leaving eight small children to mourn her loss. Among the number was a baby boy only two years old, Henry Ward Beecher, who became one of the most eloquent preachers of modern times.

Amidst surroundings most conducive to developing the intellect and cultivating the heart, the impressionable years of Harriet's childhood was passed. And the seed fell into good ground. At the age of twelve we find her writing an essay on so abstruse a theme as "Can the Immorality [sic] of the Soul be Proved by the Light of Nature?" And she handled the subject so masterfully that her father, who had come to attend the closing exercises of the school, not knowing his daughter had written it asked in surprise if such thoughts had emanated from the brain of a child. When he was informed that it was his own little daughter of twelve, who had exhibited such remarkable literary ability and such maturity of thought beyond her years, the father's pride and pleasure can be better imagined than described. So diligent a pupil was she that having begun the story of Latin alone,


---
5


she was able at the end of the first year to make a translation of Ovid in verse. And this was so creditable a production that it was read at the final exhibition of the school. In her sister Catherine's school at Hartford, Conn., when Harriet was only fourteen years of age, she taught Butler's Analogy to a class of girls, some of whom were older than herself, mastering each chapter just ahead of the class she was teaching.

At the same age under the influence of her father's preaching she gave her heart to the Lord, but, owing to the rigid theology of the time, her youthful mind was long agitated by doubts and fears as to her spiritual condition, until peace and happiness came at last.

With her father, who had been called to the presidency of the Lane Theological Seminary, Harriet came to Cincinnati in her twenty-first year. Here she taught school, discharging her duty as a teacher with great enthusiasm and brilliant success. So deeply interested in the subject of education was she that she began to plan for the establishment of a private school for young ladies, a primary school for girls and a similar one for boys. "We have come to the conclusion," said she, referring to her sister Catherine and herself, "that the work of teaching will never be rightly done till it passes into female hands. If men have more knowledge, they have less talent at communicating it, nor have they the patience, the long-suffering and the gentleness, necessary to superintend the formation of character."

At Cincinnati two important events occurred which changed the whole course of Harriet Beecher's life. For it was at Cincinnati that she met her future husband, Calvin E. Stowe, who was then professor in the Lane Theological Seminary and whom she afterward married at the age of twenty-five. It was also, while teaching in Cincinnati that she crossed the river into Kentucky to make a visit on an estate, where she caught the first glimpse of slavery and became acquainted with the hardships of the slave.

Mrs. Stowe was particularly fortunate in her married life in that her husband not only appreciated her talent, but encouraged her in every way to develop it. "My dear," he wrote her once, "God has written it in the book of fate that you should be a literary woman, and who are we that we should contend against God? You must, therefore, make all your calculations to spend the rest of your life with your


---
6


pen." Nothing is more refreshing than the ardor and intensity with which Professor Stowe loved and admired hihs talented wife. Peeping into one of his letters we read, "And now, my dear wife, I want you to come home as quick as you can. The fact is, I cannot live without you, and if we were not so prodigious poor, I would come for you at once. There is no woman like you in this wide world—who else has so much talent with so little conceit, so much literature with so little nonsense, so much reputation with so little affectation; so much enterprise with so little extravagance; so much tongue with so little scold; so much sweetness with so little softness; so much of so many things and so little of so many other things.

And this fond husband's devotion was more than reciprocated by his literary wife, as is shown by the following letter written him during her absence from home—"I was telling Belle only yesterday," she wrote, "that I did not know till I came away how much I was dependent upon you for information. There are a thousand favorite subjects which I can discuss with you better than with anyone else. If you were not already my dearly-beloved husband, I should fall in love with you."

The "Belle" to whom Mrs. Stowe wrote in the letter just quoted was her sister, Mrs. Isabella Beecher Hooker, who was a woman of superior intellectual attainments, with a strong, forceful character. For many years Mrs. Hooker, was a great power for good in every movement making for progress in our national life. It was the writer's pleasure and privilege to meet Mrs. Hooker on an ocean steamer, when she was going abroad to study some years ago. When Mrs. Hooker ascertained the writer's purposes and plans, she became deeply interested in her and gave her letters of introduction to some of the most influential and helpful people in Paris.

About a year after the publication of Uncle Tom's Cabin, being asked by an English authoress to give some information concerning herself, her family and the circumstances of writing this wonderful book, with characteristic frankness, Mrs. Stowe replied as follows: "To begin, then, I am a little bit of a woman, as thin and as dry as a pinch of snuff, never very much to look at in my best days, and looking like a used up article now. I was married, when I was twenty-five, to a man rich in Greek and Hebrew, Latin and Arabic,


---
7


but alas, rich in nothing else. When I went to housekeeping, my entire stock of china for parlor and kitchen was bought for eleven dollars—that lasted very well for two years till my brother was married and brought his bride to visit me—I then found on review that I had neither plates nor teacups to set the table for my father's family. Wherefore, I thought best to reinforce the establishment by getting me a teaset than cost ten dollars more, and this, I believe, formed my whole stock-in-trade for some years.

"But then I was abundantly enriched with wealth of another sort. I had two little curly-headed twin daughters to begin with, and my stock in this has gradually increased, till I have been the mother of seven children, the most beautiful and loved of which lies buried near my Cincinnati residence. It was at his dying bed and at his grave that I learned what a poor slave mother may feel, when her child is torn away from her. In those depths of sorrow which seemed to me immeasurable, it was my only prayer to God that such anguish might not be suffered in vain. There were circumstances about his death of such peculiar bitterness, of what seemed almost cruel suffering, that I felt that I could never be consoled for it, unless the crushing of my own heart might enable me to work out some great good for others."

For nearly fifteen years after her marriage Mrs. Stowe's life was a desperate struggle against poverty and ill health. So prostrated was she at one time that she was obliged to remain away from her family for nearly a year at a famous water cure in the hope of recuperating her shattered forces. Added to the care of six small children came those heavy duties and responsibilities, always incident to poverty and housekeeping.

"When I have a headache and feel sick as I do today," she once wrote her husband, "there is actually not a place in the house where I can lie down and take a nap without being disturbed."

So poor were they at one time that they were glad to accept the financial aid of charitable people. A few days after Mrs. Stowe reached the Water Cure to which reference has just been made, she received a letter from her husband saying: "When I returned from the steamer in the morning I felt you, I found in the P. O. a letter from Mrs. G. W. Bull inclosing $50 on account of the sickness in my family. There was another inclosing $50 more from Mrs. Devereux, of


---
8


Raleigh, N.C., besides smaller sums from others. My heart went out to God in aspiration and gratitude. None of the donors, so far as I know, have I ever seen or heard of before."

Even after Mrs. Stowe found in her pen a means of earning a livelihood, she had very little time and less strength to devote to writing. So great was the difficulty of making financial ends meet that much of her thought was occupied in solving the problem what shall we eat and wherewithal shall we be clothed, rather than what theme shall I discuss and what shall I say. At one time Mrs. Stowe wrote her husband, "There is no doubt that our expenses this year will come to two hundred dollars, if not three hundred beyond our salary. We shall be able to pull through notwithstanding, but I don't want to feel obliged to work every year as I have this. I can earn four hundred dollars a year by writing, but I don't want to feel that I must when, weary with teaching the children and tending the baby, and buying provisions, and mending dresses, and darning stockings, sit down and write a piece for some paper."

And yet no one should censure Professor Stowe for allowing himself and his family to remain in poverty for so long a time. As professor in Lane Theological Seminary, his salary was small at best, and on more than one occasion the financial state of the institution was such that it was impossible to pay Professor Stowe even the small sum promised him. From a sense of duty both he and his wife remained at their post, bearing all sorts of privations, struggling with ill health, pulling through epidemics of cholera and smallpox with Christian fortitude and grace. During the epidemic of cholera they lost their youngest child, which was a great blow to Mrs. Stowe, who felt the loss all the more keenly, because during the illness of her baby and at his death she was separated from her husband whose health was so precarious that he had been obliged to take treatment at the water cure to which his wife had gone the year before. But not until they saw Lane Theological Seminary lifted from the depths of poverty to affluence did they leave. Then accepting the professorship of Natural and Revealed Religion at Bowdoin College, Professor Stowe with his family moved to Brunswick, Maine, where hardships and privations ceased and brighter days dawned.

It was just one year after reaching her new home in the


---
9


East, and two months after the vision appeared to Mrs. Stowe in the little church of Brunswick, that the first chapter of Uncle Tom's Cabin was sent to Dr. Gamaliel Bailey, editor of the National Era, a magazine in which the story was completed in April, 1852. For this most powerful work of modern times Harriet Beecher Stowe received the small sum of three hundred dollars. On going to get the proceeds from the sale of this same story, however, only four months after it appeared in book form, Professor Stowe was asked how much he thought was coming to him. "Oh," he laughingly replied, "I hope it will be enough to buy my wife a new silk dress," whereupon he was handed $10,000 by the publisher.

So phenomenal was the sale of Uncle Tom's Cabin, that had Mrs. Stowe secured the English and foreign copyrights, not to mention the dramatic rights, for which she received nothing at all, she might easily have been one of the richest women in the world, whereas, at her death, she left her family in comparative poverty.

It would be impossible to pay a fitting tribute to the memory of this great and good woman without dwelling a while upon the merits of her masterpiece, without discussing the role played by Uncle Tom's Cabin in the abolition of slavery, without revealing the spirit in which the book was written.

The dark cloud of oppression hung over the land and the friends of human liberty were enveloped in gloom. Having made every possible appeal that could move men to justice and mercy and right, having exhausted their powers of speech to bring conviction to stony hearts, the abolitionists saw their efforts had failed of success. Then it was that a book appeared that painted a picture of the Nation's sins so true to life, in words which burnt so deeply and indelibly into the souls of men, that all Christendom stood aghast. Against the institutions of slavery which snatched from men every right that is theirs by inheritance, theirs because created in the image of God, Harriet Beecher Stowe dared raise her voice. So powerful, so searching was its tone, that it penetrated the heart, touched the conscience and rang in the ears of men, till they could endure its reproach no longer.

How dubious were her chances of success, how slight the hope of crippling an institution in which the wealth, both of American and England was interested, no one knew better than Harriet Beecher Stowe. But so great was her faith in divine justice, so overpowering her love of mankind, so intense her


---
10


hatred of wrong that she could no more have resisted the impulse of making this plea for the oppressed than she could have turned a deaf ear to the cry of a helpless, suffering child.

But, look where she would, discouragement stared her in the face. There was no state, no section which was absolutely free from the contamination of this traffic in human souls. Wherever she turned, the serpent had left its trail, til even the Church of God was poisoned with its sting. In the North, which professed abhorrence of slavery and sympathy with the slave, poor fugitives were hunted down and thrust back into bondage by law. Even the Christian Church uttered no protest against enactments which made it a crime to teach men and women to read the word of God. In the pulpit ministers of the gospel defended an institution which could with impunity separate man from wife, tear mother from child and whip to death servants whom angry masters cared to destroy. Against this system of legalized prostitution whose largest profits were frequently made from the sale of beautiful colored girls for purposes too vile to mention, these servants of the Most High refused to raise their voice. Nay, even more, so low was the banner of Christ trailed in their dust that there were pastors who refused to pray in their pulpits for slaves. So dead was the conscience, so hard was the heart, so corrupt the morals of the country, when Harriet Beecher Stowe shook the battlements of sin.

Heart-rending stories of the cruelty incident to slavery reached her ears every day. Thousands of slave mothers she knew were mourning and could not be comforted, because their children were sold away. Should she, a Christian woman, look upon these atrocities without a protest or plea? And yet, the more she saw how gigantic the evil and how powerless she was to crush it, the more insane seemed any effort she might put forth against it. But to men who could do nothing, acquire nothing, possess nothing except what grasping masters might claim, she longed to bring the light of knowledge and the blessing of freedom.

But what could she do? She, a woman, poor in pocket, feeble in health and burdened with heavy domestic cares of which a conscientious, loving mother would not and could not be relieved? From the body politic how could she cut this cancer, whose roots had spread so far that every fibre and muscle was tainted? To what purpose would she raise


---
11


her puny arm against an institution which was daily growing stronger in the South and becoming less hateful in the North? How vain the hope of destroying slavery which by trade, by family ties and political expediency had tempted even its former enemies into a shameful complicity!

Subjected to the cold test of logic, any effort to wash this stain from the country's honor was futile and wild. To a soul less courageous, less responsive to the call of duty, less touched by the sorrows of her fellow man than was this great-hearted Christian woman, it would indeed have been madness to dream of righting this prodigious wrong. But, to Harriet Beecher Stowe, filled as she was with a sublime trust in God, animated by a strong desire to fulfill the mission to which she felt divinely called, obedience to the dictates of conscience was the most natural thing in the world. And so, with the determination to open the eyes of the blind, the touch the hearts of the wicked, and arouse the conscience of those who were indifferent to the woes and degradation of the slave, Harriet Beecher Stowe seized her pen in defense of human rights. In all her life so devoted to the call of duty, so abundantly filled with acts of heroism and love, nothing shows more forcibly the intrepid spirit and the exalted character of Harriet Beecher Stowe than the terrible earnestness and fearlessness with which slavery was attacked.

Probably no one who has had a mission to fulfill has ever been confronted by more obstacles than was the author of Uncle Tom's Cabin. As the mother of a large family of children, who were delicate in health, nervous and excitable, she questioned seriously whether it was right for her to devote any of her time to literary efforts. In her home her heart was centered, and while she yearned to extend her influence over a wider sphere, she felt as all true women do, that her first duty was at her own fireside. No one will ever know how torn with conflicting emotions was this faithful wife and loving mother, as she tried to decide where duty to her own little flock ended, and indifference to the public weal began. To increase the difficulty of the situation, at times she doubted seriously that she would be successful as a literary woman, although from her childhood she had displayed marked ability in that direction. There is something touching in the modesty of this woman, who afterwards became the first author of her times, as she doubted that


---
12


talent, which needed only a subject and an opportunity to cause it to burst forth into such power and effulgence as to electrify the whole civilized world.

Thanks to a happy incident which stimulated confidence in her power, this desire to throttle slavery was crystallized into an avowed determination to strike the blow. There came a letter one day from the wife of her brother, Edward Beecher, an intimate friend of Lovejoy, who had just been murdered for publishing a paper containing articles against slavery. Among other subjects discussed, reference was made to the heart-rending events caused by the enforcement of the fugitive slave law. As a result of this infamous enactment, not only escaped slaves, but even free negroes were seized on the slightest pretext and carried into slavery, with very little hope of getting justice in the courts of law, where they were not allowed to testify. Among negroes all over the country, therefore, the greatest consternation prevailed. Families were broken up and men and women were frozen while fleeing through rivers and pathless forests into Canada. At the close of this letter, which wrought powerfully upon the sympathy of Mrs. Stowe, her sister-in-law wrote, "But what can I do? Not much myself, but I know one who can. Now, Hattie, if I could use the pen as you can, I would write something which would make this whole nation feel what an accursed thing slavery is."

Upon reading this, Mrs. Stowe arose from her chair, crushed the letter in her hand, and with an expression that forever stamped itself upon the mind of one of her children who saw her said, "I will write something, I will, if I live."

How gloriously she fulfilled this promise and redeemed this pledge, the thousands who had read Uncle Tom's Cabin can abundantly testify. With her mind mastered and her heart dominated by the great purpose to use her talent in defense of human rights, it was no wonder that, as she sat in the little church of Brunswick, Maine, a vision should have come upon her like the rushing of a mighty wind.

Who has not wept as he has stood at the deathbed of poor old Uncle Tom, who, though a slave in body, was a philosopher in mind, a saint at heart, and a martyr in death. How we have looked with horror upon the lifeless form of old Prue, who had been whipped to death, and (in the language of a fellow servant who feared to tell the facts) "had been put down in the cellar, where the flies had got her." But,


---
13


stand with Mrs. Stowe at the auction block, witness the agony of the mother torn from her child, see the despair of the wife, as she casts the last, long, lingering look upon the husband she will see no more on earth, hear the cries that are wrung from the broken hearts crushed by the master hand without one pang of remorse, if you would feel this woman's power and learn what slavery was.

How we blush with shame and pale with horror, when the beautiful, virtuous Emmeline is sold to the loathsome Legree, to be made a slave of the passions of this fiend in human form. With what a sigh of relief do we see the waters of the river close over the form of Lucy, whose husband has been sold and whose only child stolen, so that life was too bitter for her to bear. The arguments of the handsome, generous, but lazy St. Clare, who though a slaveholder himself saw the evils of the system, are so logical and powerful as to defy successful refutation. The child Eva in her beauty, her goodness and sympathy with the poor slave is, in all her ideal perfection, so realistic a creation that her death seems a personal loss. To read Uncle Tom's Cabin is to understand, is to feel its power.

But what was its secret of success? No new facts had been revealed by Mrs. Stowe. For twenty years everything that could be written or spoken about the iniquitous institution, had been freely, fully and frequently discussed. The advertisements of southern newspapers alone, to say nothing of the laws of the slave-holding States, furnished sufficient evidence of the nature, the essence and the practical working of slavery. What, then, did this woman do with her pen which the abolitionists with all their eloquence had failed to accomplish? What did Mrs. Stowe's book contain which had not repeatedly been set forth in sermons and pamphlets and speeches? Uncle Tom's Cabin throbbed with the beats of a woman's heart, wailed with her cry of anguish, trembled with her sympathy and was wet with her tears. Once catch the spirit in which Uncle Tom's Cabin was written, and its secret of success is like an open book.

"I suffer exquisitely in writing these things," declared Mrs. Stowe. "It may be truly said that I write with my heart's blood. Many times in writing Uncle Tom's Cabin I thought my health would utterly fail, but I prayed earnestly that God would help me till I got through, and still I am pressed above measure and beyond strength. This horror, this abomination,


---
14


can it be in my country? It lies like lead on my heart, it shadows my life with sorrows. I am pained by every horror I am obliged to write, as one who is forced by an awful oath, to disclose in court some family disgrace. Many times I have thought I must die, and yet, I pray God that I may live to see something done."

Acting under such an inspiration as this and imbued with the conviction that to her had been intrusted a high and holy mission in life, it is no wonder that, in the words of the poet Longfellow, Harriet Beecher Stowe should have achieved "one of the greatest triumphs recorded in literary history, to say nothing of the higher triumph of its moral effect." Spurred on by the belief that the fate of four millions of an oppressed race hung on her ability to paint their condition in its true light, it is no wonder that she made the crack of the slave driver's whip and the cries of the tortured blacks ring in every household of the land till human hearts could endure it no longer.

In estimating the value of Uncle Tom's Cabin it is not too much to say that the work of no writer of modern times has excited more general and more profound interest than did this masterpiece of Harriet Beecher Stowe. In recounting the incidents and in stating the reasons which led to the emancipation of the slave, it would be difficult to exaggerate the role played by this remarkable book. A truer estimate of the work accomplished by Uncle Tom's Cabin was never made than that expressed by Abraham Lincoln, who on seeing Mrs. Stowe at the White House seized her hand and exclaimed, "Are you the little woman that made the great war?"

"I estimate the value of anti-slave writing by the abuse it brings," said William Lloyd Garrison in writing to Mrs. Stowe about her book. "Now all the slavery defenders have left me alone and are abusing you." In discussing Uncle Tom's Cabin with Mrs. Stowe Thomas Wentworth Higginson said, "To have written at once the most powerful contemporaneous fiction and the most efficient of anti-slavery tracts is a double triumph in literature and philosophy to which this country has heretofore seen no parallel."

And this book was read all over the civilized world. From Albert, Prince Consort of England, from the aristocracy of Europe, from people of high and low degree everywhere, letters came pouring in filled with praise of the work and with gratitude to Mrs. Stowe for espousing the cause of the poor,


---
15


down-trodden slave. The queen of England read it aloud to the royal family and was much moved by the recital of the wrongs heaped upon the race in bondage. "None but a Christian believer," wrote the Earl of Shaftesbury, "could have produced such a book as yours, which has absolutely startled the whole civilized world and impressed many thousands with its revelations of cruelty and sin that give us an idea what would be the uncontrolled dominion of Satan on this fallen earth."

Consider how far-reaching were the impressions made by Uncle Tom's Cabin, of which 300,000 copies were sold in the first year in this country alone, more than a million and a half in England and the colonies; remember it was translated into more languages than any other book every written except the Bible and Pilgrim's Progress, and how potent a factor it was in working a great reform becomes easily apparent. Way off in Siam a lady of the court was so touched and wrought upon by Mrs. Stowe's plea for the oppressed that she liberated every one of her slaves—men, women and children, one hundred and thirty in all—saying that "Hidden Perfume," for that is the meaning of her name translated into English, "was wishful to be good like Harriet Beecher Stowe."

After seeing what a miraculous power her book possessed, Mrs. Stowe repeatedly disclaimed the authorship of this child of her heart and brain. "I could not control the story, it wrote itself," she said, "I, the author of Uncle Tom's Cabin? No indeed, the Lord himself wrote it, and I was but the humblest instrument in his hands. To him alone should be given all the praise."

Perhaps no author has ever been so viciously attacked on account of her efforts in behalf of liberty as was Harriet Beecher Stowe. On all sides and by all classes, even by those from whom she had a right to expect encouragement and support, she was denounced. Both by Northern newspapers and religious publications she was wilfully misrepresented and maliciously slandered. By time-serving ministers of the Gospel her work was pronounced false and anti-Christ, so as the discourage Christian people from reading it. So great was the prejudice against Mrs. Stowe in the South that a cousin residing in Georgia wrote her that she dared not have the name of Harriet Beecher Stowe appear on the outside of her letters, and that very excellent people had asked if such as Harriet Beecher Stowe were received into


---
16


reputable society at the North. "In some parts of the South," said Mrs. Stowe, "my book is as much under an interdict as is the Bible in Italy."

Though for many years Mrs. Stowe was reviled and persecuted for righteousness' sake, her energy never relaxed, nor was her ardor cooled in prosecuting the work to which she had devoted her life and consecrated her powers. And though the meed that should have been hers was denied her in her own land, the countries of the old world vied with each other in paying her the homage she so richly deserved.

The champions of liberty in England and Scotland invited Professor and Mrs. Stowe to pay them a visit and asked as a special favor that they might be granted the privilege of defraying the whole expense of the trip. From the moment her foot touched the English shore, till she turned her face homeward, Mrs. Stowe's journey was a series of ovations, such as have been accorded few private citizens of any country in the world. At all the stations, eager, earnest, friendly faces crowded around the carriage to catch one glimpse of the little woman who had wrought such a miracle with her pen. From miles around people gathered to look upon the face of her whose heart sympathized with the poor and lowly, and who made their sorrows her woes. At Edinburg a thousand golden sovereigns were presented to her on a silver platter, the unsolicited contribution of the poor. All over the British Kingdom her reception was like that accorded to royalty. Everywhere she was met by deputations and addresses, while the enthusiasm of the people, from the highest to the lowest, knew no bounds.

At a reception at Stafford House, London, the Duchess of Sutherland presented her with a massive gold bracelet, made of ten oval links in imitation of the fetters of a slave. Two of the links bore the inscription March 25, 1807, the date of the abolition of the slave trade, and August 1, 1853, the date of the abolition of slavery in all British territory. The third inscription is 562,848, March 19, 1853, the date of the address of the women of England to the women of America on slavery, and the number of women who signed it. To these it was Mrs. Stowe's privilege to place on five other links of the golden fetter the inscription: Emancipation D.C., April, 1862; President's Proclamation, January 1, 1863; Maryland free, October 13, 1864; Mississippi free, January 11, 1865, and on the clasp link, Constitution amended by Congress, January


---
17


31, 1865. Constitution amendment ratified. At Mrs. Stowe's death two of the links had nothing on them. May the civilization of American soon progress so far as to enable Mrs. Stowe's descendants to inscribe on one of the remaining links the inscription: "Complete Emancipation, Actual Equality of the Negro, not fiction, but fact." An equality which shall mean that to this despised race, by whose sweat and blood this country has been enriched, shall be accorded all the rights and privileges so freedly given to the majority of foreigners who dwell in our midst. After being deluged with kindness and fairly overcome by the gratitude and good will of her friends in foreign lands, Mrs. Stowe returned home only to renew her crusade against slavery with increased vigor and fresh zeal.

In order to prove the falsity of statements made by her enemies that Uncle Tom's Cabin was exaggerated and over-drawn, Mrs. Stowe began to prepare a key to the book with great care and pains. In this vindication of her work documentary evidence taken from the statute books and the papers of the South was given in such quantities that no doubt was left as to the authenticity of her statements and the accuracy with which slavery was portrayed. While preparing this key so much fresh material was collected that she decided to write another book, and Dred was the result. In this work (considered by some, among whom was the Queen of England) to be superior to Uncle Tom's Cabin, Mrs. Stowe showed the general effect of slavery upon society, the demoralization of all classes and the corruption of Christianity which follows in its trail. In England, whither she went to secure a copyright, the demand for Dred was greater than the supply, so that placards were posted in all the large shop windows announcing when the book could be had.

Not until Harriet Beecher Stowe was bending under the weight of nearly four score years, many of them years of suffering and toil, did she cease to labor with her pen. As an author she occupies the foremost rank among American writers, having won the distinction of being the first to introduce to the world of letters a character never presented before. The success of James Fenimore Cooper, by whom the American Indian was first painted, and of Harriet Beecher Stowe, who first depicted the Colored-American, can hope to be achieved by no other writers who choose the same themes. Of Mrs. Stowe's talent and genius there can be no


---
18


doubt. In the words of a great French authoress, "She possessed genius as humanity needs genius, not the genius of the man of letters, but the genius of goodness." If he is the best artist who can most skilfully paint and most deeply move, then this woman, whose creations are so complete, and original, will be written in the annals of American authors the foremost artist of them all. During Mrs. Stowe's literary career she wrote thirty books, besides an incredible number of magazine papers, journals, short stories, letters and charitable missives, all of which bear the stamp of her genius, her greatness and her goodness.

While reviewing the career of this good woman let us not fail to note that her interest in the cause of emancipation did not cease at writing books, for much of the money she earned with her pen was spent freely in redeeming slaves, in supporting anti-slavery lectures, in founding and maintaining schools in which Colored people might be taught the blessings of freedom. It is interesting to observe in passing that all the men in Mrs. Stowe's family, father, husband, brother and sons, were strong abolitionists. From the time Mrs. Stowe became acquainted with slavery, while a young woman in Cincinnati till the close of the War, neither she nor Professor Stowe ever refused assistance or shelter to a slave in distress. Many a poor fleeing fugitive was lifted from bondage into freedom by means of the underground railroad which ran through the home of Harriet Beecher Stowe. The children of liberated slaves were received into her family school, and taught side by side with her own little ones, when to accord such treatment to the race in bondage required the grace and fortitude of the martyrs of old.

In working for the freedom of the slave Mrs. Stowe left no stone unturned which might be instrumental of good. In order to make the women of the country feel what a great responsibility was resting upon them, she addressed them in an appeal, which is one of the most powerful documents of the kind ever penned. "And now do you ask, what can the women of the country do, O women of the free States? What did your mothers do in the days of our revolution? Did not liberty in those days feel the strong impulse of woman's heart? The first duty of every American woman at this time is to thoroughly understand the subject for herself, and to feel that she is bound to use her influence for the right."
---
19
And so she continued to spend and be spent until nothing that human ingenuity could invent or human thought devise in bringing to a glorious fruition the desires of her heart was left untried or undone. And to no one more than to Mrs. Stowe should the Colored people of the country return thanks that the plans of that Senator were frustrated who boasted that he would one day call the roll of his slaves on Bunker Hill.
From Mrs. Stowe's introduction to the American slave, as she saw him for the first time on a plantation in Kentucky till he stood clothed in the dignity of American citizenship, her opinion of his native ability was always just and fair and her views of his future hopeful. The faults and weakness of the character upon which his detractors and ex-masters have always dwelt with so much pleasure were attributed by Mrs. Stowe to his environment rather than to any inherent racial depravity, as certain near-philosophers would have the world believe.
In writing to a friend in England, so far back as 1853, immediately after her return from her first trip abroad, Mrs. Stowe said, "The Colored people in this country are rapidly rising in every respect. I shall request Fred Douglass to send you a printed account of the recent Colored convention. It would do credit to any set of men whatever, and I hope you will get some notice taken of it in the papers of the United Kingdom. It is time that the slanders against this unhappy race should be refuted, and it should be seen, how in spite of every social and political oppression, they are rising in the scale of humanity." "In my opinion," says this broad-minded, Christian woman, "they advance quite as fast as any of the foreign races which have found asylum among us."
With the effort to displace Colored laborers in the South by foreigners Mrs. Stowe had no patience at all. Her sentiments on this subject are well set forth by the following incident: All day long she had been observing a Colored man working arduously and cheerfully in the hot sun, while the thermometer at that particular spot registered 135 degrees. When the sun was low enough for Mrs. Stowe to venture forth she could not resist the temptation to have a conversation with this man whom heat apparently had no power to harm. "Martin," said she, "you've had a hard day's work. How do you stand it? Why I couldn't endure such heat five minutes." "Hah, hah; no, I suppose you couldn't,"


---
20


said Martin, "ladies can't, missus." "But, Martin," said Mrs. Stowe, "aren't you very tired?" "Bress your heart, no missus." "So Martin goes home to have supper," says Mrs. Stowe, "and after supper he will be found dancing all the evening on the wharf near-by. After this when people talk of bringing Germans and Swedes to do such work, I shall be very much entertained."

After the emancipation for which Mrs. Stowe worked so indefatigably, so consciously and so well, nothing afforded her more pleasure than to watch from her orange grove in Florida the development of that people from which shackles had just been stricken. In their happiness, in their prosperity, in their ability to acquire knowledge and accumulate property, she took the keenest delight. In discussing the condition of ex-slaves Mrs. Stowe used to say, "Colored people are not perfect, but they have their faults, and they are serious faults in the view of white people. But they are happy, and they do know how to enjoy themselves, and that is more than you do. An old negro friend in our neighborhood has got a nice, new two-story house, and an orange grove and a sugar mill. He has got a lot of money besides. Mr. Stowe met him one day and he said, "I have got twenty head of cattle, four head of hoss, forty head of hen and ten children, all mine, every one of them mine." "Well," said Mrs. Stowe, "that is a thing that a black man could not say once, and this man was sixty years old before he could say it. With all the faults of the colored people," says she, "take a man and put him down with nothing but his hands, and how many could say as much as that? I think they have done well."

What a beautiful picture it must have been to see this white-haired old woman, more than three-score years and ten, going about among a people whose liberty had been so dearly bought, for whose emancipation she herself had given talent and energy and money and strength, and that dearest of all to another's [sic] heart—a son.

Though Mrs. Stowe was indefatigable in her efforts to dispel the misery and gloom of the world, she herself was often called upon to pass through the deep waters of affliction. By the hand of death a beautiful baby boy was snatched from her arms, when she was already resting under burdens that seemed greater than she could bear. Her eldest son, while a freshman at Dartmouth College, was drowned,


---
21


just as he was in the bloom and promise of early manhood, after his mind had been enriched and his resolution to be a worthy son of a great mother had been strengthened by his travels abroad with her. Later on, of her two remaining sons, one enlisted in the army and became a chaplain of his troop. After the famous battle of Gettysburg, a letter was received by Mrs. Stowe from a friend conveying the sad news that young Captain Stowe had been struck by a fragment of a shell which entered his right ear. From this wound, which could not be healed, Mrs. Stowe's son never recovered. After living several years on the Florida plantation, which his mother bought in the hope of benefitting his health, Capt. Stowe became possessed with the idea that a sea voyage could do him more good than anything else. He therefore took ship for San Francisco from New York, sailing around Cape Horn. He reached San Francisco in safety. That is positively known, but that is all. No word from him or concerning him has ever reached the loving hearts that waited so anxiously for it, and of his ultimate fate nothing is known. Nor was this all through which she was called to pass. Six years after her marriage Mrs. Stowe's youngest daughter was stricken with a peculiar nervous affection [sic] which caused her great suffering and from which she never recovered. The death of her daughter was a great blow to this poor, stricken mother of sixty-eight years, from whom the inexorable reaper had already snatched many loved ones, so that for a time Mrs. Stowe's energies were paralyzed and she was completely prostrated with grief. After standing at the deathbed of her husband, between whom and herself there had been such a perfect union for so many years, Mrs. Stowe felt that the last tie which bound her to earth had been snapped, and she longed to join the loved ones who had gone before.

Harriet Beecher Stowe lived to the green old age of eighty five years. But long before the silver chord was loosened and the golden bowl broken, her mind seemed to have taken flight from the body and to have soared to its Maker above. For many years it was pathetic indeed to see this woman who had been mentally and morally such a power in the world, wandering about like a little child, pleased with birds and flowers, the fresh air, the sound of a piano or a voice singing hymns, but the spirit that had gone forth touching millions of hearts in both the high and waste places of the earth was


---
22


asleep. The commanding faculties which had helped to free a race had failed.

On the 1st of July, 1896, came the angel of death to release Harriet Beecher Stowe from her suffering and toil. "Earth with its lights and shadows, its safe retreats and its dangerous pitfalls, its transient pleasures and its bitter griefs, gone like a troubled dream, and in its stead Heaven—Home."

She, whom they committed to the dust, had a mind of such purity, a talent of such strength, a soul with such sympathy and a heart with such love as have seldom baptized the world with their presence and power. As her coffin descended into the earth, there disappeared from view a woman whom no threat terrified, no task discouraged and nothing deterred in her labor of duty and love. In the midst of trials and afflictions, whether as a mother weeping at the grave of a child, or as an invalid struggling with disease and poverty, or as a philanthropist persecuted and despised for defending the oppressed, Harriet Beecher Stowe faltered not nor wavered in the work she felt called to perform. Though arduous the task and thorny the road, forward she pressed. In her arms of sympathy and love the oppressed and erring, the weak and fallen were clasped and consoled. Beyond the bounds of her infinite charity no human creature could stray. It is rare indeed that such gentleness and strength, such frankness and sagacity, such wit and wisdom, such courage and courtesy, such conscientiousness and consciousness of power are so admirably combined as they were in Harriet Beecher Stowe.

She was not only an author and a philanthropist, but a woman in the completest and broadest sense of that word. Not only was she gifted with genius, but she was blessed with that charity "Which suffereth long and is kind, the charity that vaunteth not itself, and is not puffed up, that rejoiceth not in iniquity, but rejoiceth in the truth; the charity which beareth all things, believeth all things, hopeth all things, endureth all things." Of the marvel she wrought in her work for the emancipation of the slave there can be but one verdict, one voice. One of the profoundest thinkers of the day has said, "While no one should underestimate the great services of men like Garrison, Phillips, Parker and Summer [sic] who cast their fortunes into their effort to free the slave, it is the truth to say that all their efforts were as a drop in the bucket compared with the stir and power in Uncle


---
23


Tom's Cabin." Amidst the feast of slavery and the orgies of sin, like the handwriting on the wall it appeared, so that wickedness trembled and vice was afraid.

But Harriet Beecher Stowe is gone, that friend of the oppressed, the champion of right. To the thorny, tear-wet path her weary feet have trod I would not call her back. To her memory has been erected a monument more precious than marble, more enduring than brass or stone. In the heart of a grateful people she lives and Harriet Beecher Stowe can never die.
Therefore I cannot think thee wholly gone;
The better part of thee is with us still;
Thy soul its hampering clay aside hath thrown
And only freer wrestles with the ill.

Thou livest in the life of all good things;
What words thou spak'st for Freedom can not die;
Thou sleepest not, for now thy Love hath wings
To soar where hence thy Hope could hardly fly.

Thou art not idle in thy higher sphere,
Thy spirit bends itself to loving tasks
And strength to perfect what is dreamed of here,
Is all the crown and glory that it asks.

MARY CHURCH TERRELL