Frederick Douglass's Paper
Frederick Douglass
Rochester: 28 January 1853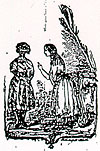 "TOPSEY; OR, THE SLAVE GIRL'S APPEAL"—A very touching little poem, sent to us by an English friend, has been reprinted by us, and is for sale at this office. Messrs. Miller and Mix have kindly supplied us with a pretty little illustration. The poem may be purchased (well-printed upon letter paper) for five cents a sheet or fifty cents per dozen—or upon half sheets at three cents a copy or twenty-five cents the dozen.