THE BLACK SWAN.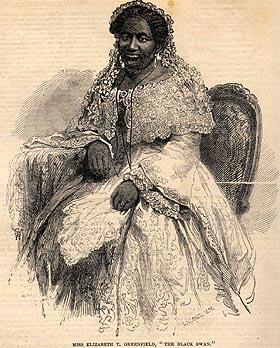 ELIZABETH T. GREENFIELD, the Black Swan, who now occupies a prominent position before the musical world, was formerly a southern slave. She is the daughter of an Indian woman who was married to a slave named Taylor, on the plantation of a Mrs. Greenfield, in the State of Mississippi. She was born near Natchez, in the year 1826. Mrs. Greenfield manumitted her slaves in the latter part of her life, became a member of the Society of Friends, and removed to Philadelphia.
Though without beauty, having had the advantages of much musical education, the "Black Swan" has given general concerts in our cities, where she has created a general admiration of her artistic power and accomplishments.
The extent of her register has surprised thousands, and when she has at first excited admiration by the purity of her upper voice, she has subsequently struck her auditors with wonder by the ponderous and powerful notes of her lower voice—a voice that must be regarded by the musical world as a phenomenon.
Her concert at the Metropolitan Hall, on Thursday evening the 31st of March, is the only one she gives in New York, prior to a musical tour in Europe, where she will undoubtedly create a great sensation.
There will thus be two celebrities from the United States, in Europe at once—the "Black Swan," and Mrs. Harriet Beecher Stowe.