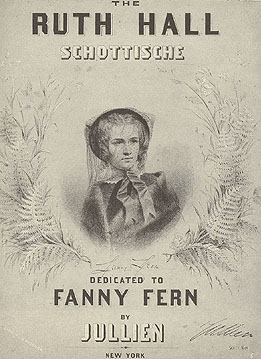 Sheet Music Cover (1855)
This was the pen-name of Sara Payson Willis. Born in 1811, she was educated at Catherine Beecher's Female Seminary in Hartford. When she began her career as a newspaper columnist (the first woman columnist in America) in 1851, she had been widowed and was in the process of getting a divorce from her second husband. Soon after her writing started to appear in Boston's Olive Branch and True Flag she was among the most widely-read and highest-paid of all American writers. Before the end of her career in 1872, she published over half a dozen collections of her columns and three novels, including the autobiographical Ruth Hall (1855). It is by that novel that she is best-known in our time, but the best-selling of her books was her first one. Published in June 1853, Fern Leaves sold 46,000 copies in four months (which, according to its publishers, surpassed even the performance of Uncle Tom's Cabin), and over 70,000 copies by the end of the year.
It is by excerpts from Fern Leaves that she is represented here, although other of her texts appear elsewhere in the archive. Outspoken and satirical, "Fanny Fern" made some reviewers very uncomfortable (she was, for example, the first woman to go on record praising Whitman's poetry), but she almost invariably delighted readers. She writes from within the values of mid-century sentimental culture, but usually has a mischievous glint rather than a tear in her eye.