Climb de Golden Fence
Oh My, Wicked Pickanniny!!!
The New Coon Hit!


Words by Hattie Starr
Music by Nat. D. Mann
New York: M. Witmark & Sons, 1895.



[Introduced with Great Success in "Uncle Tom's Cabin"
at the Tivoli Opera House, San Francisco, Cal.]


1. I wish I was a little black coon once mo'
Yes I does, 'deed I does,
A gettin' into mischief an' rollin' on de flo'
Yes I does, 'deed I does,
I eat up all de melons, in de watermelon patch,
Mammy chase me down de old cross road,
I allus feared de debil dis chile was gwine to catch,
Break my back, wid a boa'd.

CHORUS.
Oh, my! wicked piccaninny,
How I teazed my sister Jinnie,
Oh, my! awful piccaninny
Ha! ha! ha! ha! Climb de golden fence.

2. I likes to wander back to my sugar co'n days,
Yes I does, 'deed I does,
A chasin' coon and possum wid de odder little jays,
Yes I does, 'deed I does,
I tied togedder tails ob cats
And hung em on de line,
Golly how it takes away my bref,
I pulled off all de blossoms from de yallah pumpkin vine,
Tickled me, 'mos' to deaf.

3. I nebber saw de chicken I didn't want to steal,
Yes I did, 'deed I did,
Dars somefin' 'bout de 'citement dis nigger liked to feel,
Yes I did, 'deed I did,
I burned de sulphur matches underneaf de chickens nose,
Den I watch em tumble off der perch,
How often chicken feaders was a stickin' to my clo'es,
Sunday morn' in de church.

[Song includes "DANCE" After 3d. verse.]



PERFORMED BY
GLIMPSE OF GLORY
LEAD VOCAL: Kay Buchanan
CHORUS:
Constance Harrington (Soprano)
Kay Buchanan (Alto)
David Tate (Tenor)
James Stewart (Bass)
PIANO: Lynne Mackey
BANJO: Bill Wellington

Recorded by Bill Dudley
Produced by Bill Wellington



RECORDED at Mennonite Media
Harrisonburg, Virginia

©2007 Well-In-Tune, Inc., Staunton VA


All rights reserved.
---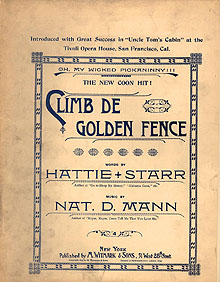 Courtesy Sheet Music Collection
BROWN UNIVERSITY LIBRARY
---

THE MUSIC FOR THIS SONG
IS AVAILABLE AT BROWN'S
AFRICAN-AMERICAN SHEET MUSIC 1850-1920 --
AN EXHIBIT AT THE LIBRARY OF CONGRESS'
AMERICAN MEMORY ARCHIVE