Oh! Eva
(Ain't You Comin' Out Tonight?)
Words by Grant Clarke & Edgar Leslie
Music by Harry Warren
(New York: Clarke & Leslie Songs, Inc.,
1924)
---

The recording here was made by "The Happiness Boys" (Billy Jones and Ernest Hare), and first appeared in the JULY 1924 CATALOGUE from Victor Records. The recording begins with a 1-minute intro spoofing the "Tom Shows" -- another example of the way popular culture in the Jazz Age tended to make fun of what Victorian Americans had treated sentimentally. Then the Happiness Boys sing half the lyrics at right, which are taken from the sheet music. The recorded arrangement begins with VERSE 1 and CHORUS 1, followed by VERSE 2 and CHORUS 2, concluding with a slightly revised version of the second of the four EXTRA CHORUSES.



ENLARGE LABEL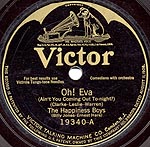 Courtesy John Sullivan
VICTOR RECORDING #19340-A:
RELEASED 1913

RE-RECORDED BY SOUNDS OF A CENTURY
Amissville, VA

DIGITIZED & REFURBISHED
BY Adam Soroka
Digital Media Center, Clemons Library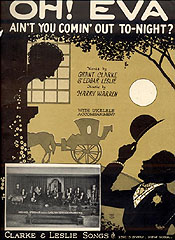 CLICK HERE TO ENLARGE COVER

Images this page courtesy John Sullivan.
VERSE 1:
Eva was a garden rose,
'Way down where the Swanee flows,
And a half a dozen Beaux loved this pretty maid.
Eva's uncle would get sore, chase the boys from the door,
But when he would sleep and snore,
They would serenade.

CHORUS 1:
Oh! Eva, Oh! Eva,
Ain't yer comin' out to-night,
Better pack your things and flap your wings,
A bride all dressed in white;
Oh! Eva, Oh! Eva,
There's a honeymoon in sight,
In a one hoss shay, we'll drive away
From Uncle Tom to-night.
BOW WOW! BOW WOW! those bloodhounds want to bite,
If they want meat they'll have to eat
Your Uncle Tom tonight.

VERSE 2:
Chickens know the chorus now,
So does ev'ry village cow,
Farmers while they rake and plough croon it soft and low.
Someone heard the kitchen cat teaching it to a rat,
It's been heard in ev'ry flat
On the Radio:

CHORUS 2:
Oh! Eva, Oh! Eva,
I have loved you all my life,
And I'd call on you each night or two,
But I can't dodge my wife;
Oh! Eva, Oh! Eva,
She is built just like a sack,
Both her teeth are lost, her eyes are crossed,
And tears roll down her back.
DING DONG! DING DONG! I hear you married twice,
So take the air 'cause I don't care
For shopworn merchandise.

EXTRA CHORUSES:
Oh Eva! Oh Eva!
If you want to eat to-night,
There's some oats nearby to satisfy
Your horse's appetite;
Oh Eva! Oh Eva!
I'll be thirsty, bye and bye,
And at twelve o'clock I'll take the rock
From Uncle Tommy's rye.
TEE HEE! TEE HEE! Ain't I the silly chap,
When I tell jokes to lady folks,
They roll right off my lap.

Oh Eva! Oh Eva!
Won't you slip on something, dear,
If we must elope, slip on some soap
And slide down on your ear;
Oh Eva! Oh Eva!
We must steal away in peace,
If you have no bags, just pack your rags
In Uncle Tom's valise.
BING BANG! BING BANG! Those shots were meant to kill,
When bullets fly I run them by
Just like they're standing still.

Oh Eva! Oh Eva!
In a little, two room shack,
You supply the grub, I'll steal a tub
So you can wash my back.
Oh Eva! Oh Eva!
Get a few Virginia hams,
When you're leaving there bring me a pair
Of Uncle Tom's pajams.
JINGLE! JINGLE! I'm broke most of the time,
When Tom's at rest feel in his vest
And throw me down a dime.

Oh Eva! Oh Eva!
There's a married gal next door,
And the story goes she hung out clothes
Upon the night before;
Oh Eva! Oh Eva!
Now her husband's grievin' hard,
'Cause to-day he found his wife's night-gown
In Uncle Tom's back-yard.
BIP BOP! BIP BOP! There was an awful fight,
That guy hit him with so much vim,
That Uncle Tom turned white.