St. Clare to Little Eva in Heaven


Composed, Written and Sung by George C. Howard
In His Original Character of "St. Clare"
In "Uncle Tom's Cabin"
New York: Horace Waters, 1854
[Originally published in 1853]



[And most affectionately dedicated to
his little DAUGHTER CORDELIA, who has
an interest in the sale of this song.]


Childless, desolate this heart
Naught on earth is left to cherish
All is lost since we must part,
Every hope and joy will perish.
Eva! Eva! gentle daughter,
Are those bright eyes veiled in death;
That so fondly beam'd with goodness
Upon all at parting breath.
Art thou gone from me forever,
Shall I never more behold thee,
Bud of life, my heart's fond treasure,
What is now the world to me.

Lonely here and worn with sadness,
No loved child's sweet voice I hear;
Life hath ceased to yield its gladness
Since without my little dear.
Eva! Eva! lovely daughter,
Are those young lips closed and cold
That so softly spoke of heaven!--
Emblem of an angel's mould,
Picture of divine perfection,
Loved by all, enslaved and free,
Oh my heart and soul's affection,
What is now the world to me.

Home is silent, dread, and drear,
Uncle Tom is seen to weep;
Topsy lingers near the bier,
Strewing roses at thy feet.
Eva! Eva! charming daughter,
Smile upon me from above;
Open those bright gates of pearl,
Bless me with thy spotless love;
Little angel thou art gone 'there,'
Filled at last thy prophecy;
Farewell only child forever,
What is now the world to me.


PERFORMED BY

SOLO VOCAL: James Taylor
PIANO: Michael Slon



Only the first verse is playable.




RECORDED at Virginia Arts Studio
Charlottesville, Virginia

©2007 Michael Slon All rights reserved.
---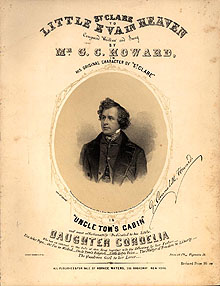 Courtesy Sheet Music Collection
BROWN UNIVERSITY LIBRARY
---

THE MUSIC FOR THIS SONG
IS AVAILABLE AT BROWN'S
AFRICAN-AMERICAN SHEET MUSIC 1850-1920 --
AN EXHIBIT AT THE LIBRARY OF CONGRESS'
AMERICAN MEMORY ARCHIVE