Uncle Tom's Gwine to Stay
Uncle Tom's answer to Liza when she asks him to run away.


Words by George Russell Jackson
Music by C. A. White (author of "Old House
Aint What It Used to Be," "Ise Gwine Back to Dixie.")
Chicago: White, Smith and Company, 1881.


[Written expressly for, and sung by Sam Lucas,
in his great personation of Uncle Tom, in Uncle Tom's Cabin.]


1. Oh, de old man's so tired dat he can't hardly walk,
But it's here he's a-gwine for to stay.
And so now honey Liza you may cease yer talk,
For de old man he can't run away.
Oh, I've worked 'round de place for a great many years,
I'se always been honest and true;
Oh, de massa may sell me, but dry up your tears,
Fo' old Tom will be faithful to you.

CHORUS.
A good effect produced if this be sung as an invisible Chorus.
Uncle Tom, Angels call,
And the old man am ready to go.
Chloe dear, dry your tears and for me hab no fears,
For de good Lord will help me I know.

Oh, de Lord will preserve me where ebber I go;
Fo' to Him I'm a-gwine to keep close.
If I go far away down de ribber below,
He will help me to carry my cross.
Oh, I'll ne'er run away from de old cabin home,
If massa can sell me he may;
So now Liza take leave of your old Uncle Tom,
Fo' it's here he's a-guine fo' to stay.

Oh, I know dat de missus will feel berry bad,
Fo' to part from her old Uncle Tom.
And my young massa George he will feel very sad,
Fo' to miss me when he will come home.
But de Lord's will be done, if I'se got to be sold,
He knows what is all for the best;
And we'll meet by an' by in de mansions of gold,
And we'll wear de white robes of be blest.



PERFORMED BY
GLIMPSE OF GLORY
LEAD VOCAL: James Stewart
CHORUS:
Constance Harrington (Soprano)
Kay Buchanan (Alto)
David Tate (Tenor)
James Stewart (Bass)
PIANO: Lynne Mackey

Recorded by Bill Dudley
Produced by Bill Wellington



RECORDED at Mennonite Media
Harrisonburg, Virginia

©2007 Well-In-Tune, Inc., Staunton VA


All rights reserved.



---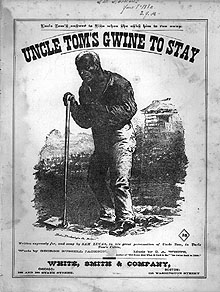 Courtesy Sheet Music Collection
BROWN UNIVERSITY LIBRARY



THE MUSIC FOR THIS SONG
IS AVAILABLE AT BROWN'S
AFRICAN-AMERICAN SHEET MUSIC 1850-1920 --
AN EXHIBIT AT THE LIBRARY OF CONGRESS'
AMERICAN MEMORY ARCHIVE