Topsy's in Town


Words by Al. Trahern
Music by Warner Crosby.
The Sunday World Music Album
Supplement to the New York World
Sunday, Dec. 17, 1899.
Published by A. W. Tams, N.Y.

Coons are excited 'bout a gal from Mobile,
She just arrived the other day.
She is a thoroughbread and always genteel,
She's the real thing the darkies say.
When she goes out a walking coons have a chill
Look at her with a jealous frown
She breaks hearts at will and has style fit to kill
Look out for Topsy is in town.

CHORUS.
She is a lady She is a queen
She reigns supreme that is no dream
Darkies salute her with heads bowed down
No mistake the coons are wild since Topsy's in town.

It has been told about that she's met her fate,
'Cause she will wed a millionaire.
Coons say they know its true for she's set the date,
They say 'twill be a grand affair.
Brass bands will play the march in good old rag time
She'll wear a thousand dollar gown
And no coon can tell of a wedding so swell
Never since Topsy came to town.



PERFORMED BY
GLIMPSE OF GLORY
LEAD VOCAL: Kay Buchanan
CHORUS:
Kay Buchanan (Alto)
David Tate (Tenor)
James Stewart (Bass)
PIANO: Lynne Mackey
BANJO: Bill Wellington

Recorded by Bill Dudley
Produced by Bill Wellington



RECORDED at Mennonite Media
Harrisonburg, Virginia

©2007 Well-In-Tune, Inc., Staunton VA


All rights reserved.
---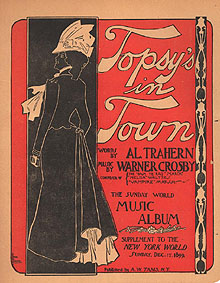 Illustration signed "Frank Parker"
Courtesy Sheet Music Collection
BROWN UNIVERSITY LIBRARY
---

THE MUSIC FOR THIS SONG
IS AVAILABLE AT BROWN'S
AFRICAN-AMERICAN SHEET MUSIC 1850-1920 --
AN EXHIBIT AT THE LIBRARY OF CONGRESS'
AMERICAN MEMORY ARCHIVE