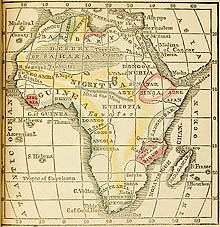 From Primary Geography for Children
By C. and H. Beecher (1833)
Thomas Jefferson was a colonizationist. So was Stowe's father (see "Dr. Beecher's Address" in the PROTEST AT LANE SEMINARY section of the archive) — and her husband (see below). None of these men actually belonged to the American Colonization Society, but like the white Americans who founded that group in 1816 they believed both that slavery would or should be abolished and that freed slaves should be transported out of the United States. To this end the Society purchased land on the west coast of Africa, called it Liberia, and in 1822 began sending freed slaves there to create a republic that was intended to be the eventual home for the millions of American slaves.
The motives of the organizers of the colonization movement remain in dispute, as you'll see in the pieces gathered here. Stowe's choice of sending most of the "black" characters to Africa at the end of Uncle Tom's Cabin was one of the most controversial aspects of the novel with abolitionist and African American readers. It may have been one of the most popular with white readers. It is also one of the ways that her novel resembles the stories that others wrote to oppose it (see, for example, Sarah Hale's Liberia in the archive's ANTI TOM NOVELS section).