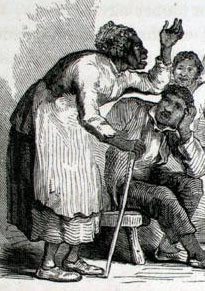 Billings' Illustration for Chapter 4,
The Waller Barrett Collection
Thirteen songs are sung in Uncle Tom's Cabin, all but one -- the Latin hymn from Mozart's Requiem that St. Clare sings -- sung by slaves. All but one of those -- the "rowdy song" that Legree demands the slaves sing on their way to his plantation -- are religious. Stowe's own religious affiliation, as the daughter, sister and wife of ministers, was with the Congregational Church, but for the hymns and spirituals in the novel she drew mainly from the Methodist and camp-meeting forms of Christianity she identifies with African Americans. Eight of those songs are available here, in playable arrangements intended to reflect both the traditional words and music, and the versions Stowe included in the novel.
Hymns play a crucial role in the story Stowe is telling. In Chapter 30, for example, Susan tells her daughter Emmeline as they wait to be sold on the auction block, that if they are separated, she should "take your Bible with you, and your hymn-book; and if you're faithful to the Lord, he'll be faithful to you." When Tom is forced to leave home and family, he carries his hymn-book with him as faithfully as his Bible; Legree takes it away in Chapter 32, but singing hymns remains one of Tom's most important sources of consolation. For Stowe, the words of the quoted hymns allow the novel to create a kind of contact with the supernatural world; they're portals between the sorrows of this world and the kingdom Tom is ultimately journeying to.
Most of the novel's contemporary readers would have been able to "hear" the music as they read the words. For that reason, it seems especially good to be able to use modern technology to give readers in our time an equivalent experience.
Each of the songs below is playable in any of 3 formats — .wav, .mp3 and .ra.