Like the novel, the various stage adaptations of Uncle Tom's Cabin were complex sites of ideological conflict - racial, class and gender ideologies. As Marcia Pentz-Harris has pointed out, "Uncle Tom's Cabin may have been writ female, but it was dramatized and acted male."* The proof of this contention is evident in a simple comparison of texts: Stowe's narrative is filled with strong, Christian women — Mrs. Bird, Rachel Halliday, Aunt Chloe, Eliza, Cassy, Ophelia; while the Aiken and Conway scripts either omit them or reduce them to mere figureheads. "George's story takes center stage for the entirety of act one, whereas Stowe concentrates upon Eliza."* Ophelia's role was reduced to just one word — "shiftless" — which she repeated endlessly; and the stories of Eliza, Tom, Eva, Ophelia, Topsy, and Cassy were minimized on stage; whereas those of George Harris, St. Clare, Gumption Cute (an Aiken creation), and Simon Legree were magnified. The end result of these and other departures from Stowe's text was not only a masculinization of the Uncle Tom story, but a secularization of it as well as the Christian principles embedded in Stowe's females were written out of the dramas.
In lieu of Stowe's Christian females, Aiken, and to a lesser extent, the playwrights who followed him, substituted "the man of principle."*Having disposed of strong, moral women, many playwrights chose instead to embed morality in George Harris, young George Shelby, Phineas, and, quite naturally, in Tom. In the Aiken adaptation, even, St. Clare, through the "salvific agency of Tom and Eva, becomes a man of principle" as demonstrated by his entry into heaven in the final tableau.* Thus, reducing the roles of Stowe's women and by transferring morality to the men, dramatists, beginning with Aiken and Conway, transformed female values into male ones and established the male values as dominant.
This is not to say that playwrights who adapted Uncle Tom's Cabin to the stage necessarily redefined antebellum American notions of masculinity. As Cynthia Griffin Wolff aptly notes, the American Revolution had already promoted a new set of masculine traits that included self-assertiveness, aggression and competition while it excluded self-sacrifice and sensitivity to the needs of others, characteristics that post-revolutionary Americans considered "feminine."* Abolitionists, Wollf continues, "considered the slave system "no less than an internalized, systematized and legally perpetuated enactment of conquest and colonization, [and believed that] as long as masculinity continued to be defined by conquest, men, as opposed to women, would be especially inclined to perpetuate the slave system."* Thus, while Stowe's abolitionist argument relied strongly upon a radically revisionist notion of 'masculinity'" — the creation of a sensitive, forgiving, Christian masculinity embodied by Tom — dramatists of her story actively espoused the aggressive, self-assertive male represented by George Harris, thereby reversing Stowe's portrayal of the conquest of "communal, benevolent masculinity over a definition of gender that is built upon subjugation and aggression."* As Theatre Historian Rosemarie Bank, and cultural historian Eric Lott before her, both have observed, the stage Uncle Tom's Cabin, even Aiken's reasonably faithful rendition, is a "schizophrenic site in which the character/hero is alternately masculinized and unmanned."*
While some historians believe that the de-feminization of the stage versions of Uncle Tom's Cabin may have been a volitional act, others point to the nature of the antebellum theatre itself. At the time that Mrs. Stowe penned her novel, the theatre was a masculine institution, in both reception and production. Audiences were predominantly male, with the few women attracted to the theatre most frequently of doubtful reputation, and the producers of theatre generally male. As regards the staging of Uncle Tom's Cabin, in fairness to the playwrights then, "adapters were necessarily drawing on production practices and theatrical conventions ill-suited to realizing Stowe's matrifocal ideals in production. Strong-willed mothers rarely appeared on the antebellum stage [and] most stock companies would have been hard pressed to cast several such roles."* Thus, since a multiplicity of female roles was not consistent with conventions of the time and hence since acting companies couldn't cast them, it was logical that playwrights would, by necessity, need to excise many of Stowe's original female characters. In retrospect, by transforming Mrs. Stowe's feminine, sentimental narrative into masculinized versions, like it or not, the stage adaptations of Uncle Tom's Cabin may well have made the story of Uncle Tom more palatable to audiences that might have otherwise been hostile to any drama that smacked of abolitionism and have "normalized Stowe's novel, smoothing away the radical challenges to the dominant culture implicit in its mystical and matrifocal values."* In effect, then, "even for those who had encountered the novel, dramatizations functioned in part as mediating or exegetic texts, conditioning the way such audiences "read" the original . . . The wider assimilation of a sense of Stowe's novel was thus closely dependent on the process of dramatic adaptation, and the plays expanded and altered the meanings of the Tom phenomenon."*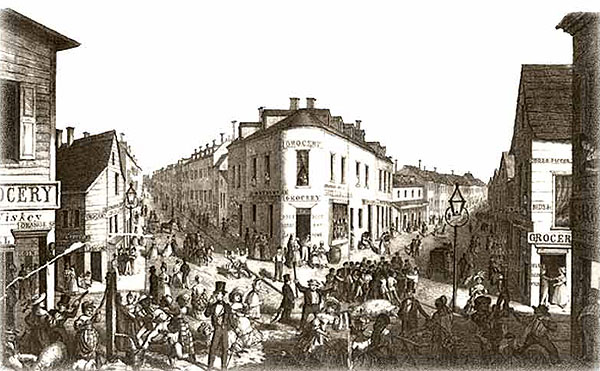 If stage versions "normalized" the gender values of Stowe's text, they also "normalized" audiences. When the play opened at the National, at the time a working class theatre in a rough, lower Manhattan neighborhood surrounded by Chatham Square, it attracted the "usual" audience for Purdy's house: it was composed of butchers, pocket book droppers, "riggers, hucksters, stevedores, harness-makers, shoulder-hitters, park loungers, . . . apprentices, chip boys, newsboys and boot blacks — frequenters of the low saloons in the . . . Square, and the lower classes swarming through the shadowy byways of the notorious Five Points "* (Figure 13). None had heard of, much less read, Mrs. Stowe's novel and all were at the theatre for an evening's entertainment — to laugh at the comics, to boo anything they didn't like and, if necessary, to throw fruit and vegetables, and anything else that might be handy, at the performers.
Much has been written about the "conversion" of these rough, uneducated and, by and large, anti-abolitionist audiences — how, once the play had begun, they were quick to sympathize with Eliza and George Harris; how they hissed Haley when he negotiated the purchase of Harry; how they shouted, "it ain't right" at those points in the plot where slaves were sold or brutalized. As important as this conversion was, the "normalizing" process was completed only when the Bowery B'hoys and G'hals were joined in the National audience by respectable middle class patrons — ministers, members of their congregations, and women who rarely if ever entered a theatre. Because of the morality of his stage offering, Purdy, who had previously aimed at courting the lowest classes, now found himself entertaining the most mixed, yet respectable audiences in all of New York. Thus, not only did the play help "to convert a new group in the North to abolition — that group of rough men and boys who before had had the most contempt for blacks and who were most likely to disrupt the meetings of the abolition societies," but for those who already espoused the Christian cause of abolition, it functioned as a form of American Jeremiad — a "mode of public exhortation . . . designed to join social criticism to spiritual renewal, public to private identity, the shifting 'signs of the times' to certain traditional . . . themes and symbols'."*
While the gender shift may have "normalized" Uncle Tom's Cabin for both respectable, religious middle-class patrons and those theatregoers who were generally less than respectable, perhaps nothing affected the racial politics of Tom on stage more than the antebellum minstrel show. From the outset, stage adaptations of Stowe's story showed the unmistakable influence of minstrelsy. The first New York Uncle Tom, C. W. Taylor's truncated, "catch house" version, opened with a blackface spectacle; a "negro celebration" that drew heavily upon black music and dance and included a Kentucky Breakdown and featured a chorus of "We Darkies Hoe de Corn" — minstrel interpolations obviously intended to serve simultaneously as a short-hand for the South and to entertain rough, working-class audiences at the National who routinely attended the myriad minstrel shows in the neighborhood.*
Almost immediately other Uncle Toms followed suit, in the process moving the Tom story further from Mrs. Stowe's abolitionist text. Encouraged by Kimball and Smith at the Boston Museum to remove the "objectionable" aspects of Stowe's novel, Conway set about muting her radical racial attitudes by liberally lacing his text with anti-abolitionist conventions and devices — in other words, conventions and devices appropriated from the minstrel show. Conway opened his play with a plantation scene transplanted directly from the minstrel show, with "happy" slaves, accompanied by a banjo, dancing, singing "lively negro music" and generally enjoying the "mirth" of a day off from work. During the opening scene, Sam, who is comically dressed as a "ragged but pretentious bumpkin," dances a "polite" mock minuet with Chloe while the other slaves form a "half circle" to watch them.* Later in the drama, Sam encourages the assembled slaves to "heel and toe it out" and to "cut de pigeon wing;" Adolph is depicted as a minstrel dandy who speaks "foppishly," owns a "half pair of specs," and is "scented all over;" and Topsy delivers a minstrel stump speech.* Conway's drawing of the African-American characters as comical and his incorporation of the rowdier elements of minstrelsy, Meer believes, were intended to show a "spectacle of black Southernness designed to amaze the Northerners."*
Even "the version most faithful to Stowe's novel, [Aiken's] Uncle Tom's Cabin was itself a compromise between anti-slavery politics and established entertainment conventions."* Although it is generally acknowledged that Aiken remained relatively faithful to Mrs. Stowe's abolitionist sentiments, he nevertheless made liberal use of minstrel conventions and devices. He freely incorporated Stephen Foster songs into his text; retained the "wild, grotesque songs common among the negroes" that Harry performs for Shelby and Haley — a performance that Stowe herself had appropriated from the minstrel show; and, perhaps, unconsciously, adopted the rhythms of the Interlocutor-endmen minstrel banter — rhythms like that found in the question-and-answer exchange of Tambo and Bones sketches like "Blackberrying."* Given the popularity of the minstrel show during the 1840s and 1850s, it is understandable that even playwrights like Aiken who attempted to remain faithful to Stowe's radical message "could not have avoided making use of blackface devices; minstrelsy was the current material condition of theatrical production in the representation of racial matters."*