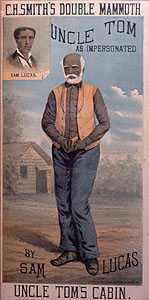 CLICK IMAGE TO ENLARGE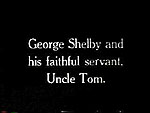 CLICK IMAGE TO SEE FILM CLIP
I confess that even after all the time I've spent exploring the adaptations of Stowe's story, it's still very difficult for me to see what so many white southerners eighty or a hundred years ago apparently saw when they attended the story in theaters, tents or movie houses. To me there's a fairly straight ideological line between the Tom Shows' plantation and levee scenes, or the films' reconstructions of slave life at the Shelbys' and St. Clares', and the kingdom of Tara and Twelve Oaks that Margaret Mitchell and David Selznick enshrined in the national consciousness in the 1930s. What southerners saw, on the other hand, is typified by the reaction of General A. T. Goodwyn, Commander in Chief, United Confederate Veterans, who told a newspaper in 1929 that Pollard's film was "an insult to our ancestors and a laudation of the maligners and traducers, invaders and despoilers of our Southland." To my way of looking, it makes perfect sense that when M-G-M began planning to produce a new Uncle Tom's Cabin two decades after Pollard's film, the protest movement that killed the plan was organized by the N.A.A.C.P., and not the Confederate Veterans. The easiest explanation of the white South's rejection of Stowe's story at the movies, despite the efforts the movies made to placate them, would be to say that it was a form of reflex allegiance to the way their ancestors had hated her book. But their disapproval can also serve as a provocation to take one other look at the films that have survived. It's easy to see how reactionary they are, but is there anything revolutionary or at least revisionary about them?
When in 1914 the World Film Corporation, for example, cast Sam Lucas as Tom, it made the first American film to feature an African American, rather than a white actor in blackface, in a starring role. In context, however, that was less radical than it sounds. In his seventies when the movie was made, Lucas had been playing Tom onstage for almost four decades (see poster above left).
He was one of the few actors billed by name in Tom Show posters, but even as Tom he was often identified as a "colored comedian." And in the Tom Shows he had plenty of practice playing Uncle Tom as an Uncle Tom (for example, see clip at left).