TO FILM IN 6-REEL VERSION
This is a publicity photo for the 1910
release, containing a scene that was cut
from the 1927 re-release.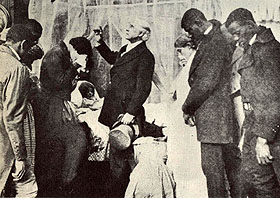 CLICK TO ENLARGE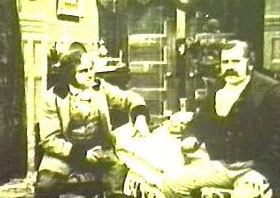 TO FILM IN 6-REEL VERSION
Just as the length and popularity of Stowe's story changed theatre history -- the dramatic productions of Uncle Tom's Cabin in the 1850s were the first time American audiences went to the theater to see a single play, rather than a variety of plays and other entertainments -- so it continued to influence the history of other media into the 20th century. According to The Dramatic Mirror review below, at least, this 1910 film was "a decided innovation" in motion pictures: "the first time an American company" released a dramatic film in 3 reels. At the time, most "full-length" movies were "one-reelers" (about 15 minutes long), and were shown in theaters as part of about an hour's worth of entertainment usually involving a live singer as well as several films. Vitagraph's three reels were released on three different days: Tuesday, Friday and Saturday, July 26-30, 1910. Whether theaters subsequently combined them into one longer film, or invariably showed them (as a kind of serial) over different days is not known.

The 3-reel format follows the basic organization of the novel into three parts: Kentucky, New Orleans and Legree's plantation. George Harris does not appear and the northern movement toward freedom in Canada is almost entirely omitted; it ends with Eliza crossing the ice, shown in reel 1.

Only one print of the 1910 Vitagraph version seems to have survived: designed for European distribution, its titles are in Danish, and it is in The National Film and Television Archive, in London. The version available in the archive through the link at left is digitized from a re-release of the film by another company (the Empire Safety Film Company) in the late 1920s, around the time of Universal's big budget Uncle Tom. This version, according to Brewster and Jacobs*, was intended for home use, and divides the film into six reels. At about 20 minutes in length, the re-release is about half as long as the original. But the clips here will give you a good idea of the way the story looked to film audiences in 1910.