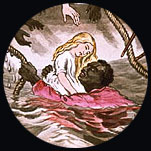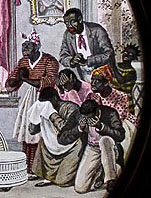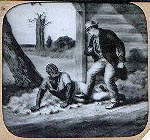 Stowe's novel was apparently translated into this medium as early as September, 1853. According to A History of the New York Stage, George Lea decided to take advantage of the record-setting popularity of Aiken's dramatization of Uncle Tom's Cabin at Purdy's National Theatre to exhibit the story in "magic lantern views" at his Franklin Museum: "many a 'country cousin' found him or herself here who thought it was Purdy's place of amusement. A brass band was stationed on the balcony to attract the stranger."*

Professional lantern performances of the novel included a showman introducing the slides, and probably offering dramatic readings of scenes from the novel, as well as musical accompaniment, but no script for Lea's representation has been found. All that's known is that it organized the story into 3 parts and 25 pictures.

The various kinds of slides available below were all manufactured later in the century by the C. W. Briggs Company. They were designed in 1881 by Joseph Boggs Beale, America's leading magic lantern artist. Except for the tenth slide, "Eva's Dying Farewell," Beale's images closely copy the drawings that Hammatt Billings' prepared for the Illustrated Uncle Tom's Cabin published by Jewett and Co. in late 1852, and it is interesting to note which of the 117 scenes Billings illustrated were chosen in order to tell Stowe's story in a dozen slides (CLICK HERE to see the Billings' illustrations). It's also interesting to note how the one image that dates from the 1880s represents Tom, Topsy and the other slaves at Eva's bedside much more stereotypically than Billings did (see detail at left) -- this reflects the influence of the "Tom Shows" that began appearing in the mid-1870s. Also in 1881, someone at Briggs' company wrote a 6-PAGE SCRIPT for the use of lantern showmen who bought the slide set.

Over the years many different "editions" of this 12-image set were produced, reflecting the range of magic lantern entertainments. Below, dating from the 1880s, are the high-quality hand-colored versions that would have been used in a professional lantern show. By CLICKING HERE you can see examples of the many different versions of Beale's slides that were produced by different manufacturers over the next 40 years, including many that were obviously intended for home use, the market niche that lantern companies turned to as movies drove slide shows out of theaters.

At least one British "edition" of the novel as a magic lantern show was published as well. It retold Stowe's story through 24 images. To see this set, CLICK HERE.