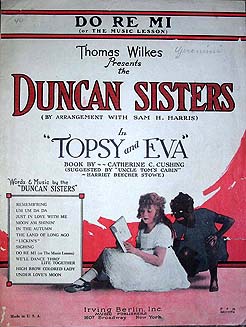 Courtesy ADMATHA COLLECTIBLES



Thomas Wilkes Presents
The Duncan Sisters
(By Arrangement of Sam H. Harris)
In "Topsy and Eva"
Book by -- Catherine C. Cushing
(Suggested by "Uncle Tom's Cabin" --
Harriet Beecher Stowe)
Do Re Mi
or The Music Lesson

Words & Music by the "Duncan Sisters"
© 1923 by Irving Berlin, Inc.
1607 Broadway, New York

---



Learning lessons ev'ry day, first to work, then to play.
Try to learn each lesson thru, reading, writing, spelling, too.
There's one lesson we like best, and that is our music test.
Try to sing sweet harmony, that is if we stay on key.

CHORUS
Do, re, mi. It clings to mi, re, do.
Love, honor, always obey.
These things we learn ev'ry day.
Or try to Um, um, um.
We're learning Um, um, um.
There is a lesson we know in mi, re, do.

We don't like our lessons much. We like candies, cakes and such.
We just like to romp and play, singing skipping all the day.
We like games with lots of fun, like King James was King William's son.
After that we're all tired out, then we sit right down and shout.