Happy-Go-Lucky Days

By Al. Wilson & Jas. A. Brennan
© 1925 by Al. Wilson Music Publishing Co.
1595 Broadway, New York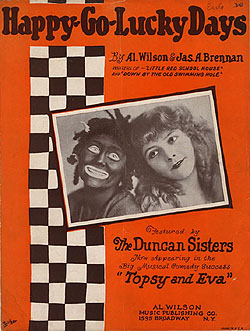 Courtesy John Sullivan

---

Featured by The Duncan Sisters
Now Appearing in the
Big Musical Comedy Success
"Topsy and Eva"


Sometimes it seems to me,
The scheme of things is wrong.
What's the use of growing up and then,
Just to wish you were a kid again.
And if I had my way;
Take this tip from me,
All our troubles would burst like bubbles,
A kid I'd always be.

CHORUS
Back in those happy go lucky days,
Down by the old swimming pole,
Happy go lucky days.
When we used to go to school,
Remember how you'd wave your hand,
The teacher'd say "stand"
When she'd ask you to spell.
C - A - T spells dog,
You'd stand right up and yell Hey!
Then you'd have reading, too,
You knew every word
And a lot of other words that teacher never heard;

Ev'ry question in school
That teacher asked, you always knew,
'Cause the smartest kid in school
Had the desk in front of you.
I'd love to live always
In those happy go lucky days
Back in those days.

PATTER
At the birthday parties, gee! the games were rough,
We played "puss in the corner," and "blind-man's bluff."
They hit me in the puss and I'm telling you,
That I laid in the corner for an hour or two.
"Chewing the string" was a game I wouldn't miss,
Every boy and girl that played was sure to get a kiss,
When it came my turn to play I didn't get a thing,
'Cause I got excited and swallowed the string.
Then they said that every kid in the place,
Should see who could make the funniest face,
They gave me the prize and I began to bawl,
Because I hadn't been playing at all.

How they grabbed for the cake,
Nobody waited like they should,
But the seven pieces I got
All tasted mighty good.
I'd love to live always,
In those happy go lucky days.