NO. 7.--CHORUS OF FREED SLAVES.


Words by Geo. R. Sims; Music by Ivan Caryll.

London: Hopwood & Crew, c. 1875.

From Uncle Tom's Cabin, Musical Tableaux Vivants,
Performed by the Moore & Burgess Minstrels.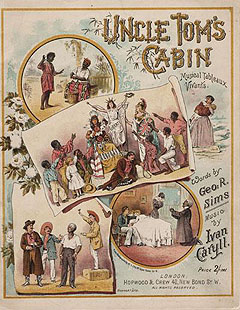 Clifton Waller Barrett Collection
University of Virginia

SOPRANO. TENOR. BASS.
Hail, sisters fair! in freedom bound,
Your sacred banners proudly wave!
Wher-e'er they float is hallow'd ground,
Which none may touch and still be slave.
In love, not fear, we bend the knee
To you who gave us liberty!
Hail! Hail! Hail! Hail! Hail! Hail!
Hail! all Hail! all Hail!