The Coon with the Big White Spot.
Song and Chorus.


Words and Music by Frank J. Gurney.
New York: M. Witmark & Sons, 1895.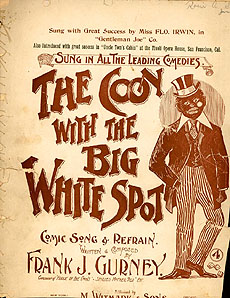 Courtesy Sheet Music Collection
BROWN UNIVERSITY LIBRARY



[Sung with Great Success by Miss Flo. Irwin, in "Gentleman Joe" Co.
Also Introduced with great success in "Uncle Tom's Cabin" at
the Tivoli Opera House, San Francisco, Cal.
Sung in All the Leading Comedies.]

---

THE MUSIC FOR THIS SONG
IS AVAILABLE AT BROWN'S
AFRICAN-AMERICAN SHEET MUSIC 1850-1920 --
AN EXHIBIT AT THE LIBRARY OF CONGRESS'
AMERICAN MEMORY ARCHIVE
[TEXT]


There's a story going 'round,
Where e'er a coon is found,
And you couldn't get a nigger once a year,
To believe it didn't go,
He's always found it so,
And it plays upon his superstitious fear.
When "craps" he tries to shoot,
For a seven, how he'll root,
But a sev'n or 'leven aint around the place.
There's a hoo-doo on the coon,
And he glares around the room,
For a nigger with a white-spot on his face.

CHORUS. Dark night, always a loo-loo,
Makes stakes bigger,
Cuts no figger,
White spot always was a hoo-doo,
When on a big black coon!

There's a swell coon in the town,
You bet he's always found
At a poker table when there's any play;
Plays the paste-boards out of sight,
Gets the money ev'ry night,
And he has a most insinuating way.
Last night he had three tens,
He called for two and then,
He threw a ten away with undue haste,
When a sneer behind his chair,
Made him turn and standing there,
Was a nigger with a white spot on his face.

CHORUS.

Just a week ago today,
To the track he sneaked away,
For he had a good thing tucked way up his sleeve,
The horse had never run,
The price was twelve to one,
Not a nickel in his pockets did he leave.
The starter dropped the flag,
A sailing went the "nag,"
Like a Domino or Clifford set the pace,
But of course the cinch went down,
For the coon that rode the Brown,
Was a nigger with a white spot on his face.

CHORUS.