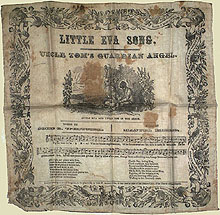 CLICK ON EITHER IMAGE TO ENGLARGE IT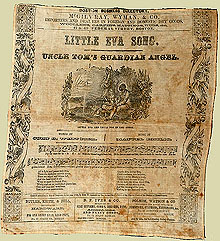 Courtesy Barrett Collection
UTC on Cotton
These two versions of the muslin handkerchief Jewett & Company brought out in 1852 to promote and exploit the success of Uncle Tom's Cabin tell a striking story of their own -- though no one at the time seems to have been struck by any of the ironies. Though both contain the sentimental song that Jewett commissioned Whittier to write about Eva's death, both are unabashedly commercial. The elaborate scroll around the outside of the first (top left) celebrates the novel's popular success, suggesting it was probably given away by Jewett as a promotional device. The copy specifies that 230,000 volumes of Uncle Tom's Cabin have been sold so far, suggesting it was produced sometime during late 1852 or early 1853.

The second (bottom left) contains real ads, for such unsentimental commodities as a "Self-Heating Rotary Flat-Iron." Still more ironic, however, is the fact that both handkerchiefs are made of muslin, which is made from cotton, which in 1852 would almost certainly have been picked by slaves. Because of that, we can also see this as a souvenir of the inability of Northerners to see how their actions as American consumers made them accomplices in the economy of slavery, the evil Stowe was writing to protest.
The "Little Eva Song" printed, with Emilio's music, in the center was also published by Jewett. You can hear it elsewhere in the site.