The Key to Uncle Tom's Cabin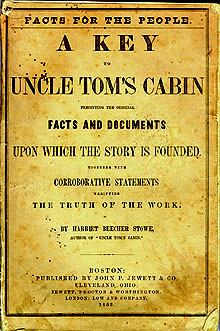 Stowe wrote this book to defend her novel against one of the most wide-spread complaints that pro-slavery critics lodged against it -- that as an account of slavery Uncle Tom's Cabin was wholly false, or at least wildly exaggerated. Thus The Key is organized around that defensive project, taking up her major characters one at a time, for example, to cite real life equivalents to them. At the same time, defending her novel led her to mount a more aggressive attack on slavery in the South than the novel itself had. In the novel she works hard to be sympathetic to white southerners as well as black slaves; here, her prose seems much angrier, both morally and rhetorically more contemptuous. One explanation for this sharper tone could be the novel's reception in the South, where no one seems to have appreciated her attempt to be fair. Stowe was probably unprepared for the South's shrill rejection of the book.
The Key is prickly, dense book, with none of the readability of Uncle Tom's Cabin. When it first came out, it was also a best seller, though it's likely many bought it without understanding its nature. It's also a kind of fiction. Although it claims to be about the sources Stowe consulted while writing the novel, for example, she read many of the works cited here only after the novel was published.
The Key to Uncle Tom's Cabin; Presenting the Original Facts and Documents Upon Which the Story Is Founded, Together with Corroborative Statements Verifying the Truth of the Work. By Harriet Beecher Stowe. Boston: John P. Jewett and Company, 1854.
WHOLE TEXT [1.5MB]