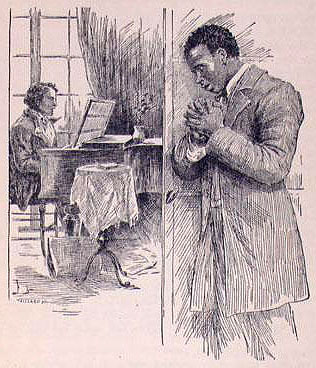 Above: "Began singing the 'Dies Irae.'" Illustration by Jenny Nystrom-Stoopendaal for Uncle Tom's Cabin (Philadelphia: 1897); Courtesy University of Wisconsin Library, Rock County Campus.
Below: Untitled illustration by Matthew Urlwin Sears, originally drawn for 1853 edition of Uncle Tom's Cabin (Edinburgh: Adam and Charles Black); reprinted in 1922 edition published by the Macmillan Company (New York).


Thirteen songs are sung in Uncle Tom's Cabin, all but one -- the Latin hymn from Mozart's Requiem that St. Clare sings -- sung by slaves. All but one of those -- the "rowdy song" that Legree demands the slaves sing on their way to his plantation -- are religious. Stowe's own religious affiliation, as the daughter, sister and wife of ministers, was with the Congregational Church, but for the hymns in the novel she drew mainly from the Methodist and camp-meeting forms of Christianity she identifies with African Americans. Mozart's Requiem is also devoutly religious, but belongs to a Catholic tradition that Stowe's father, for example, would not have recognized as "Christian" at all.
Nine of the songs sung in the novel are available here, in playable arrangements intended to reflect both the traditional words and music, and the versions Stowe included in the novel. Most original readers of the novel would have been able to "hear" the music to at least some of the songs as they read the words. For that reason, it seems especially good to be able to use modern technology to give readers in our time an equivalent experience.
The songs below are listed in the order in which they appear in the text. Each is playable in any of 3 formats — .wav, .mp3 and .ra.