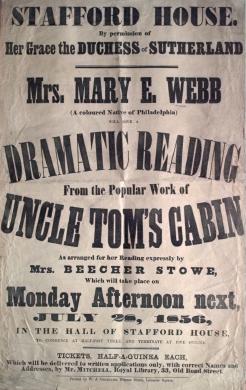 The Harry Birdoff Collection,
Harriet Beecher Stowe Center [43.81.486]
Having grown up in a religious environment where plays were considered immoral, Stowe refused all requests to authorize a dramatization of Uncle Tom's Cabin. But in 1854 or 1855, perhaps to take advantage of the popularity of the various unauthorized stage versions that were playing throughout the North, she prepared a text for dramatic readings by Mrs. Mary E. Webb, a free mulatto. The characters' lines follow the novel closely, though there are some surprises -- such as Uncle Tom singing a sentimental minstrel song at Legree's. And it is revealing to see what scenes Stowe omitted, and to compare her text with the other dramatizations in the archive.
Not enough is known about Mrs. Webb, the daughter of a fugitive slave who was one of the earliest professional African American performers. According to the brief "Biographical Sketch" her husband Frank wrote for a British printing of Stowe's dramatization, she decided to venture on a career as a dramatic reader after his business failed. The Illustrated London News report of her performance at the Duchess of Sutherland's (see broadside at left) identifies her as "a coloured native of Philadelphia" and gives a few additional biographical details. In an 1856 manuscript letter, Stowe adds a few more details, and says that her readings of Uncle Tom's Cabin were successful in a number of towns during the 1855-1856 lyceum season. Mrs. Webb, "dressed in Indian costume," also read selections from Longfellow's "new poem" Hiawatha.
It's clear that The Christian Slave enjoyed only limited success with audiences, but not known how widely it was performed. According to Stowe, Webb's performances were popular even in "Pro-slavery" lecture halls. Her 6 December 1855 Boston reading was favorably reviewed in The Liberator, which also notes that she subsequently gave the piece in both Worcester and Plymouth. Positive responses from other Boston papers were cited in The New York Times notice announcing her 18 December performance at the city's Tabernacle Theatre. The National Anti-Slavery Standard praised her performance there. After the 1855-1856 season, Webb took the script to England, but how many performances she gave there, or whether she continued to read it in America later, is not known.
According to the published text, the performance began with an "Air": "Ole Kintuck in de Arternoon."