The Girl in the Show (1929)
AN MGM PRODUCTION STARRING BESSIE LOVE
DIRECTED BY WILLIAM A. SEITHER
WRITTEN BY JOE FARNHAM & EDGAR SELWYN


The first sound film to feature Uncle Tom's Cabin was MGM's adaptation of the Broadway play Eva the Fifth (1928), by Kenyon Nicholson and John Golden. VARIETY REVIEWED the movie very unfavorably. We haven't located a copy of the film itself, but the UTC ONSTAGE section of the archive contains a SELECTION OF MATERIALS related to the play, including a partial script.


Uncle Tom & Little Eva (1932)
OFFICIAL FILMS PRESENTS A JUNGLE JINKS CARTOON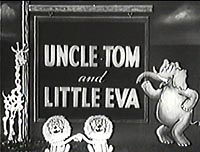 Walt Disney's Steamboat Willie (1928) was the earliest sound cartoon. There's very little dialogue in Uncle Tom & Little Eva (in fact, neither Tom nor Eva speaks at all), though the sound track includes a rich medley of 19th century minstrel songs. The cartoon opens with scenes of a "southland" that also derives from minstrelsy: steamboats, slaves dancing in a cotton field, watermelons, &c. "Eva" appears only briefly, as a hippotamus who cries when Legree takes Tom and Topsy away to be sold at auction (click on image at left).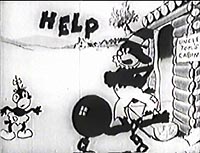 Just over two minutes of the 7-minute cartoon depict Eliza's flight across the ice, with Legree and his bloodhounds in pursuit. Interestingly, it is Tom who saves Eliza (at the same time that he frees himself and attacks Legree), though the use of "Dixie" and the old minstrel show joke about blacks and chickens at the end keeps white America's racial stereotypes pretty firmly in place (click on image at left).


Wonder Bar (1934)
FIRST NATIONAL VITAPHONE PICTURES
DIRECTED BY LLOYD BACON | NUMBERS BY BUSBY BERKELEY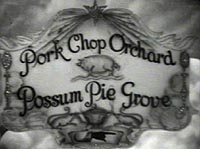 Al Jolson inaugurated the film's sound era singing "Mammy" in The Jazz Singer. Wonder Bar gives him another chance to black up and sing as cabaret owner Al Wonder. This clip comes from his big number, "Goin' to Heaven on a Mule." Heaven is full of stereotypical "black" elements, from a tap dancer emerging out of a watermelon to a game of craps with the Emperor Jones. "Uncle Tom" is there too, with his "cabin show." This may be Hollywood's way of noticing that by 1934 the touring UTC Companies were all disbanded -- though in heaven, apparently, the show still goes on: about two minutes after this clip ends Al sees a parade wagon advertising "Uncle Tom To-Night." In the clip Tom is with a little girl, but since this is a segregated heaven, she's not Eva (click on image above).


Dimples (1936)
TWENTIETH CENTURY-FOX PRESENTS SHIRLEY TEMPLE WITH FRANK MORGAN
SCREENPLAY BY ARTHUR SHEEKMAN & NAT PERRIN
DIRECTED BY WILLIAM A. SEITHER
© 1936 by Twentieth Century-Fox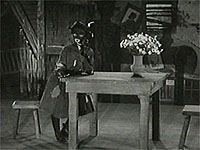 Dimples is a preposterous account of the first dramatization of Stowe's novel in New York in 1853. The conflict it dramatizes is between theatre people and those who feel play-acting and -going are immoral. It climaxes on opening night. This first clip shows the curtain going up -- to reveal an uncredited actress in blackface as Topsy (click on image at left).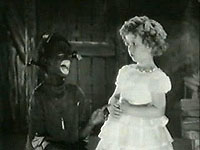 In a sense Shirley Temple was "Eva" in many of her Thirties' films, with Bill "Bojangles" Robinson as a sort of "Uncle Tom." Robinson isn't on screen in this film, but he did choreograph the dances Temple does as "Dimples" -- a performing street urchin before her stage debut as Eva. This is the second scene from the play as it is shown in the movie.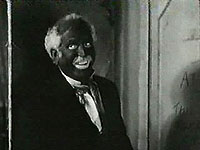 Frank Morgan plays Dimple's roguish grandfather. He makes the production of Uncle Tom's Cabin possible by swindling the playwright's rich, puritannical aunt out of a thousand dollars. She calls the police to the theatre to arrest him. To escape them he puts on Uncle Tom's makeup -- which leads to this evocation of the Double Tom Shows of the 1880's.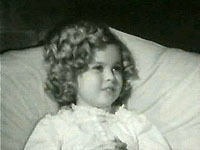 As Eva dies, the slaves gathered around the bed sing "Swing Lo, Sweet Chariot" and the stern aunt is melted to tears. As you might expect, she forgives Dimples' grandfather and blesses her own nephew's theatrical career. Not a word is said about ending slavery. As you might not have expected, the film's very last scene is a minstrel show, staged to celebrate the play's 100th performance, with Temple as Mr. Interlocutor and Stepin Fetchit as Mr. Bones.


Uncle Tom's Bungalow (1937)
WARNER BROS. VITAPHONE | MERRIE MELODIES
SUPERVISION BY FRED AVERY | PRODUCED BY FRED SCHLESINGER
ANIMATION: SID SUTHERLAND & VIRGIL ROSS | MUSIC: CARL W. STALLING
© 1937 by Warner Brothers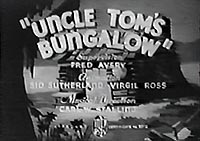 The original of this was "In Technicolor" (Warner pioneered the use of color in cartoons). Fred Avery is better known as Tex Avery; like Carl Stalling, he was a major figure in the history of American cartoons. This representation of Uncle Tom's Cabin treats it explicitly as a melodramatic performance, so at the start an authoritative "voice over" introduces the cast, beginning with Eva and ending with "Simon Simon" Legree (both omitted in the clip at left).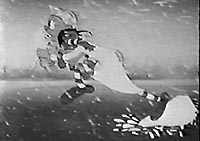 In the story, Eva and Topsy buy Tom and take him home to Eva's stately plantation house, but when they can't make their payments (in classic melodramatic fashion) Legree comes to "foreclose" on the purchase. That, as the voice over says, is Eliza's cue -- a two-minute chase in which she flees with Eva and Topsy in her arms ends when (as in the Jungle Jinks cartoon above) Tom rescues them from Legree and his hounds.


Everybody Sing (1938)
MGM PRESENTS JUDY GARLAND WITH ALLAN JONES
ORIGINAL STORY & SCREENPLAY BY FLORENCE RYERSON & EDGAR ALLAN WOOLF
DIRECTED BY EDWIN L. MARIN | PRODUCED BY HARRY RAFF
© 1938 by Metro-Goldwyn-Mayer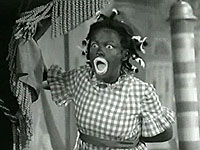 Judy Garland's character is supposed to be in Europe, gaining culture, but she wants to be a jazz singer, so in this scene she puts on blackface to audition for a musical revue being cast by two family friends. Alan Jones' character sees right through the disguise, but the nightclub owner (played by Henry Armetta) assumes the girl he sees and hears is really black. The movie was made the year before The Wizard of Oz.
Duncan Sister Soundies (1942)
R.C.M.PRODUCTIONS PRESENTS THE DUNCAN SISTERS
DIRECTED BY JOSEF BERNE | PRODUCED BY SAM COSLOW
© 1942 by Soundies Distributing Corporation of America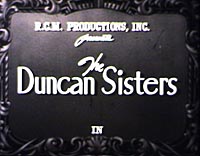 "Soundies" were an early form of music videos: 3-4 minute musical shorts that were viewed on "Panoram" machines, a kind of video jukebox that began appearing in bars, nightclubs, train stations and other public places in early 1941. Many different kinds of entertainment were available, from famous artists like Cab Calloway to girls in bathing suits. Rosetta and Vivian Duncan, who had been playing Topsy and Eva since the 1920s, made at least two Soundies in those roles (click on image at left).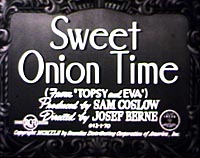 The first two clips available here are from the Soundie version of "Sweet Onion Time," a song from their stage show, Topsy and Eva. Soundies were most popular during the years of World War II (1942-1945), a context that explains the gas mask Topsy plays with in the first clip (above). In the second (left), when Eva faints because of Topsy's odor, there's a reminder of a different cultural context, one that dates back to Stowe's novel: the separate spheres that the black Topsy and the white Eva were identified with (click on image at left).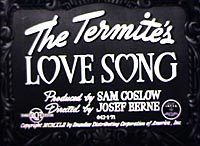 In this last clip, the opening segment of "The Termite Song," you can hear both how the conventions of the minstrel show (a hundred years old by this time) still structure the relationship between Topsy and Eva, and also how the entertainment industry sought to serve the war effort. (Over 1800 "Soundies" were produced, but none after 1947.)
The archive contains a lot more material about the Duncans: in the SONGS, the STAGE and the MOVIES sections.
Eliza on Ice (1944)
CASTLE FILMS PRESENTS A MIGHTY MOUSE TERRY-TOON
PRODUCED BY PAUL TERRY | DIRECTED BY CONNIE RASINSKI
© 1944 by Castle Films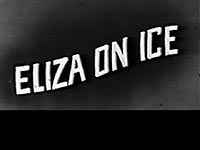 This is one of the earliest "Mighty Mouse" cartoons. Like Tex Avery's 1937 cartoon (above), it treats its material as a well-rehearsed and "already repeatedly enacted" performance. The opening scene moves through the familiar sounds and sights of Hollywood's "Dixieland" to the starting line for the great chase, where Eliza and her baby, Legree and his dogs await Tom's signal (click on image at left).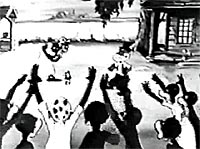 Almost all of this six-and-a-half minute cartoon depicts the chase itself, although about four minutes into it "Little Eva," who is half angel and half Hollywood starlet and who has been watching the chase from a seat on the clouds, summons Mighty Mouse to the rescue. He arrives in time to beat up Legree and save Eliza from going over a waterfall. After he takes her home, he and Eva ascend back into the heavens.


The Naughty Nineties (1945)
A UNIVERSAL PICTURE STARRING BUD ABBOTT & LOU COSTELLO
ORIGINAL SCREENPLAY BY EDMUND L. HARTMANN, JOHN GRANT, EDMUND JOSEPH, HAL FIMBERG
ADDITIONAL COMEDY SEQUENCES BY FELIX ADLER
DIRECTED BY JEAN YARBROUGH | PRODUCED BY EDMUND L. HARTMANN & JOHN GRANT
© 1945 by Universal Pictures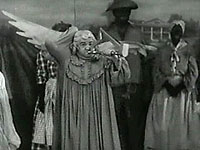 This film is best known for containing Abbott and Costello's "who's on first?" routine. It's set on a Mississippi River showboat, and what plot it has involves defeating a gang of crooks who want to take over the boat. The scene here is the finale, the film's only reference to Uncle Tom's Cabin.
The Dolly Sisters (1945)
TWENTIETH CENTURY-FOX PRESENTS BETTY GRABLE & JUNE HAVER
SCREENPLAY BY JOHN LARKIN & MARIAN SPITZER
DIRECTED BY IRVING CUMMINGS | PRODUCED BY GEORGE JESSEL
© 1945 by Twentieth Century-Fox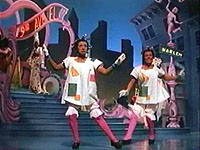 The genre here is "bio pic": the life stories of a real vaudeville act as they sing and dance their way to stardom. This clip, with its echo of the Double Topsys of 19th century Tom Shows, is part of a long blackface dance sequence Grable and Haver do to the tune of "Darktown Strutters' Ball." It is supposed to represent the Dolly Sisters performing in Paris during the First World War.
Uncle Tom's Cabana (1947)
ANIMATORS WALTER CLINTON, RAY ABRAMS, PRESTON BLAIR, ROBERT BENTLEY
STORY BY HECK ALLEN | MUSIC BY SCOTT BRADLEY
DIRECTED BY TEX AVERY | PRODUCED BY FRED QUIMBY
© 1947 by MGM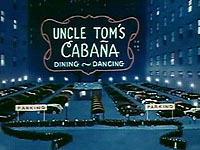 At the beginning of this six-minute cartoon we see Tom sitting in front of a cabin in the country telling a group of "pickaninnies" that no one ever tells the real story of "Uncle Tom's Cabin." In the story that follows, Legree is a big city landlord about to foreclose on Tom, who then comes up with a big idea to make the money he needs. He calls in his friend Eva, and gives his cabin a new name . . .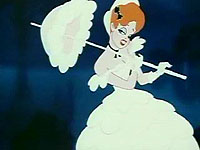 Eva's sultry singing and Simon's libidinous reaction are variants of a scene Tex Avery animated again and again. Her song does have an interesting connection to history, though not to the history of Stowe's novel. She sings a jazz version of "Carry Me Back to Ole Virginny." The song was written in the 1870s by James Bland, an African American who had never been to Virginia. Bland wrote it for the minstrel stage, but seven years before this cartoon was made Virginia officially adopted it as the State Song.
The King and I (1956)
TWENTIETH CENTURY-FOX & DARRELL F. ZANCUCK PRESENT
ROGERS & HAMMERSTEIN'S THE KING AND I
DEBORAH KERR | YUL BRYNNER | RITA MORENO
SCREENPLAY BY ERNEST LEHMAN | CHOREOGRAPHY BY JEROME ROBBINS
DIRECTED BY WALTER LANG | PRODUCED BY CHARLES BRACKETT
© 1956 by Twentieth Century-Fox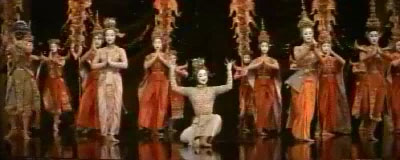 This 1956 film is based on the Rogers and Hammerstein musical, which opened on Broadway in 1951 and was based on a 1944 novel by Margaret Landon, which was based on the autobiographical The English Governness at the Siamese Court, published in 1871 by Anna Harriette Leonowens. Leonowens actually read Uncle Tom's Cabin to the king's wives, one of whom was so moved by the book that she changed her name to Harriet Beecher Stowe.
Thus the play and movie have a connection to Stowe's novel, though the long sequence called "Small House of Uncle Thomas" is more directly connected to the theatrical history of the story on stage. The production is used in the film's plot to protest the King's treatment of women, but Robbins' inventive choreography is more tribute than protest, a kind of surreal homage to the bloodhounds and icy rivers and whips and angels of the Tom Show tradition. The clip here is near the end of the sequence.