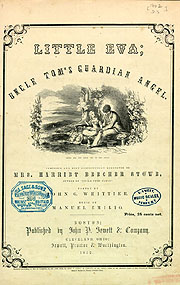 Courtesy Special Collections
UNIVERSITY OF VIRGINIA
It's impossible to say exactly how many songs were written for or about Uncle Tom's Cabin between 1852 and 1930, but over 70 of them are available on the list below. More than half of them -- the ones noted by the musical icon -- are playable, either as originally recorded (for music after 1910) or (for songs written between 1852 and 1901, before any songs were recorded) as performed for the archive by modern artists. As throughout the archive, each playable song is available in 3 digital formats — .wav, .mp3 and .ra. Many of these songs were written for various dramatizations of Stowe's story. Others -- to protest, to share or simply to exploit the popularity of her novel. You can listen as both the styles of popular music and the cultural meanings of Uncle Tom's Cabin change dramatically over the decades.

There are dozens of other songs in the archive's PreTexts section, including other playable songs in CHRISTIAN TEXTS, SENTIMENTAL CULTURE and MINSTRELSY. In the UTC ONSTAGE section are playable original recordings of actors and musicians performing two scenes from Uncle Tom's Cabin -- "The Flogging Scene" (1904) and "The Entrance of Topsy" (1910); the 75-second song that "Topsy" sings as part of this recording is listed below.