Uncle Tom's Cabin Parade (1903)
SELIG POLYSCOPE FILM


The Selig Catalog offers this summary of this one-reel film:

Showing a traveling Uncle Tom's Cabin Co. It shows Uncle Tom, Little Eva, Marks and the tallest colored man in the world, together with the blood hounds, donkeys and everything connected with a production of Uncle Tom's Cabin. This picture pleases the children and is very clear. (SOURCE: The Internet Movie Database)
Also in 1903, both the Edison and the Lubin Film Companies produced a one-reel Uncle Tom's Cabins, using two different unidentified UTC Company's actors, sets and costumes. There's no indication which troupe Selig filmed. One thing is very clear from the catalogue description -- how circus-like the typical "Tom Show" re-presentation of Stowe's story was.


The Troubles of a Stranded Actor (1909)
LUBIN FILM


The stranded actor was a "Tommer." As trade papers like The Clipper and Billboard often reported, UTC Companies were often stranded out on tour by a lack of funds, but that doesn't seem the situation this comedy exploits. Here's how Harry Birdoff, who could have seen this and the other films he describes in the passages quoted below when they originally played, describes the story of this film: "a Mr. Shakespeare attempted Little Eva, but the unappreciative citizens of Windsor greeted him with over-ripe tomatoes, and ran him out of town. The last seen of him was in Mr. Bug's Sanitarium, where he enacted Little Eva with impunity."*


The Open Road (1913)
RELIANCE FILM


This film may have been kinder to the "Tommers" than most early movies that used the "Tom Show" as their setting. According to Birdoff, in it "a millionaire's disinherited son took to the highway and got a job pasting posters for a Tom troupe. Under the influence of the bracing life, he regretted his dissipated youth, and married one of the pretty Tom show actresses."*



The Death of Simon Legree (1915)
UNIVERSAL L-KO PICTURES


According to the Internet Movie Database, the genre to which this film belongs is "Comedy." Harry Birdoff, who writes the title as The Death of Simon Le Gree, describes its plot this way: "a group of barnstorming Tommers hit the town, and Simon Le Gree completely captivated a little country maid who was thrilled when he tossed her a rose from the stage. Her jealous swain, Fatty, obtained a copy of the play, and began rehearsals at the opera house. The whole town turned out for his debut. But Little Eva's ascent to Heaven was ruined when the property man (Billie Ritchie) slipped on the rope hauling her up, and landed on the stage himself, all ending in side-splitting fashion."*



When Do We Eat? (1918)
THOMAS H. INCE CORPORATION
DIRECTED BY FRED NIBLO


This is another film about a traveling troupe of "Tommers." Perhaps one reason films made so many comedies about struggling "Tom Show" companies was to denigrate their chief competition for small town audiences. It was written by C. Gardner Sullivan, and you can see all we know about it for yourself by reading this favorable VARIETY REVIEW. In addition to the actors Variety cites, the cast included (according to the Internet Movie Database) Robert McKim as "Pug" Hennessy, Frank Hayes as Martin Grubb, and Gertrude Claire and Caroline Rankin in undetermined roles.


Uncle Tom Without a Cabin (1919)
SENNETT PICTURES
DIRECTED BY EDWARD F. CLINE & RAY HUNT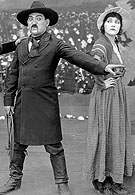 Produced by Mack Sennett, best known for the Keystone Kops shorts, this film was distributed by Paramount (which the year before had been the distributor for the serious FAMOUS PLAYERS-LASKY PRODUCTION of Uncle Tom's Cabin. The Internet Movie Database provides this cast:

Ben Turpin . . . . . . Uncle Tom
Chester Conklin . . . [unknown]
Marie Prevost . . . . Eliza
Charles Murray . . . as himself
Charles Lynn . . . . . Simon Legree (uncredited)

From the one picture we've found of this film, it seems that Ben Turpin may not have "blacked up" to play Tom, though this also looks like another film about a theatrical troupe, and perhaps he is out of the blackface in this scene. Unfortunately, the two brief newspaper notices of the film -- LOS ANGELES TIMES NOTICE;
NEW YORK TIMES REVIEW -- don't provide any details.



CLICK ON THE PICTURE TO ENLARGE IT